​Comcast's Q3 highlights how to navigate customer shifts, end of the cable
Comcast's third quarter results were better than expected and the familiar storyline revolves around how customers are cutting the cord. That storyline is legit, but Comcast's broadband business is booming and its move to embrace and integrate over-the-top services with its X1 platform appears to be paying off.
At a high level, Comcast reported third quarter earnings of $2.88 billion, or 62 cents a share, on revenue of $22.13 billion, up 5 percent from a year ago. Non-GAAP earnings for the third quarter were 65 cents a share. Wall Street was looking for earnings of 61 cents a share on revenue of $21.82 billion.
In addition, Comcast saw its business services unit continue to deliver strong growth with third quarter revenue of $1.8 billion, up 10.6 percent from a year ago. But the notable surge in the third quarter, came from Comcast's high-speed Internet business as revenue jumped 9.6 percent.
Comcast's digital transformation journey:
Comcast added 363,000 high-speed Internet customers in the quarter to more than offset 106,000 video customer net losses. A 35,000 net loss in voice customers was offset by 42,000 customer additions for security and automation.
If you break those customer relationships down, it's clear that Comcast is losing the bundle, but retaining single product customers. Add it up and Comcast is navigating shifts in its customer base as well as any company.
On a conference call with analysts, Comcast CEO Brian Roberts said:
Customer relationship net adds of 288,000 were driven by 363,000 net new Broadband customers, the best third quarter in 10 years. Collectively, residential Broadband and business services revenue increased by nearly 10%.
Roberts added that the move to look at its broadband holistically as a product–rebranded xFi–adding new features like parental controls and hooks into the smart home have paid off. "By aggregating and integrating everything from linear TV, to applications like Netflix, YouTube and soon, Amazon Prime Video, X1 delivers an unmatched user experience and the broadest range of content that underscores the value of our broadband service," said Roberts.
The other thread worth noting is that Comcast's ability to keep single product customers enables it to cross-sell another bundle in the future. For instance, Comcast's wireless business just past more than 1 million customer lines. Perhaps the broadband and mobile bundle is the new cable-ish package for customers.
Comcast certainly has its challenges ahead. For instance, 5G will create a new set of broadband competitors. In addition, Comcast still has to get its networking blocking and tackling down. A series of outages for business customers spurred a same old Comcast refrain. But it's hard to count Comcast out given the way it has navigated things so far.
Related:
Comcast Business launches analytics for SmartOffice video, motion detection
Can You Use An Xbox Controller On Nintendo Switch?
It's worth noting that some of the Xbox controller's functions do not work on Switch, nor are many of the Switch's unique features supported by the controller. Specifically, it lacks support for rumble, NFC, analog triggers, trigger vibration, the audio jack, IR input, and the LED doesn't correlate to any Switch functions, including player indicators. You also can't wake the Switch up from sleep using the controller.
You'll also want to keep in mind that Xbox controllers swap the positions of several face buttons in relation to Switch controllers, so the labels won't match up perfectly. For instance, the positioning of the "A" and "B" buttons on the Xbox controller correspond to "B" and "A" on the Switch controller, respectively. The same is true for the "X" and "Y" buttons. Otherwise, the Switch's controller scheme perfectly matches the Xbox controller's available buttons and triggers.
None of this is the fault of the 8Bitdo adapter. These limitations are simply the byproduct of marrying two devices that were not designed to work together. If that's a dealbreaker, then your best bet is to buy an officially licensed Nintendo Switch controller. The best alternative for Xbox fans is Nintendo's official Pro Controller.
The Incredible Capabilities Of The US Air Force's New Supersonic Training Jet
According to the USAF, Boeing will produce over 350 Red Hawk aircraft as part of a contract worth more than $9.2 billion. There's also speculation that the Red Hawk's design could be easily modified to incorporate radar systems, electronic warfare equipment, or under-wing weapon stations, making it an attractive purchase for other U.S. military branches or even international allies.
The training jet features a glass touchscreen cockpit that provides a more modern flair — as well as a more practical piloting experience, one would hope — and tiered seating, so both the instructor and the trainee have sufficient ability to pilot the aircraft without visual obstructions.
Production models of the T-7A Red Hawk sport a red tail section, a reference to the red-painted tails of the aircraft flown during World War II by the 99th Fighter Squadron, better known as the "Tuskegee Airmen." One of the planes they flew was the Curtiss P-40 Warhawk, which influenced the design of the T-7A Red Hawk.
In the same tradition of equality that the Red Hawk's name and design aspire to embody, the training jet is built to safely accommodate a wider variety of pilot body types and sizes than previous jets, allowing for a larger recruiting pool including more women than has historically been the case. Let's hope similar updates make their way to the USAF's other next-gen aircraft.
How To Transfer Digital Games To A New Nintendo Switch
Let's say you've just gotten ahold of a brand-new Nintendo Switch console, but this isn't your first. Maybe it's an upgrade to the fancy OLED model, perhaps you've been sharing with family, and this one is just for you. Whatever the reason, if you already have or have had a Switch, and now you have a new one, you don't have to start building up an entirely new games library (or even start your games over).
Thankfully there are ways to transfer your digital games from one Switch to another, along with your user accounts and saves. While the process is a bit different depending on whether you have access to that original Switch console, it's still doable either way. Just know that it might take a little more effort without the console where all of your info was previously saved. And you'll likely lose any game progress that wasn't backed up using Cloud saves.
If you still have the original Switch console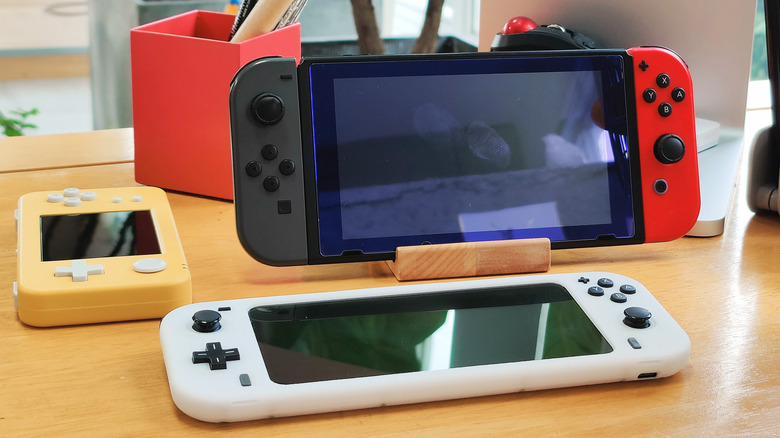 Jack Skeens/Shutterstock
Assuming you do have both the previous Switch and the new one you want to transfer everything over to, here's what you do:
From the original Switch, open System Settings (the icon looks like a gear) on the Home menu.
Select Users, then select Transfer Your User Data.
Select Next twice, and then choose Source Console to mark this Switch as the transferrer.
Select Continue, then grab the new Switch console to which you want to move everything.
From the new Switch, open System Settings and select Users, then Transfer Your User Data.
Select Next, Next again, then choose Target Console to designate this Switch as the transferee.
Select Sign-in, then sign into your Nintendo Account using either the associated email or sign-in ID.
Select Sign-in, then Next, then go back to the original Switch.
Wait for the systems to find each other, then select Transfer.
Wait until the transfer is complete (this may take several minutes), then select End to finish.
If you no longer have the original Switch console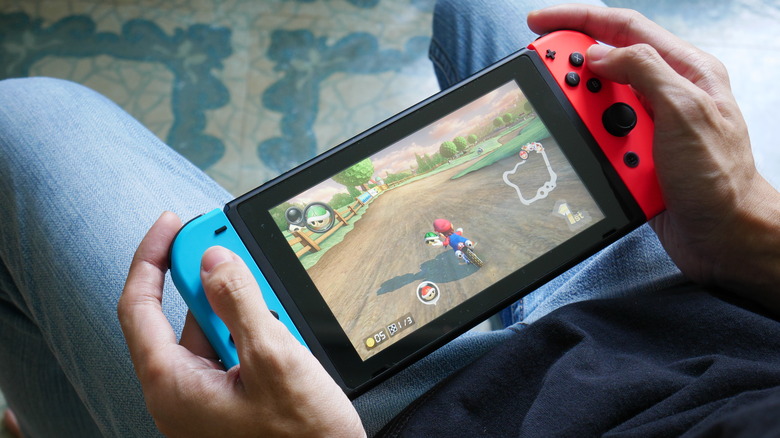 Wachiwit/Shutterstock
Things are a little more time-consuming without access to the original Switch console on which your account was created or primarily used. Also, note that any saved data that hasn't been backed up via Cloud storage will not be able to carry over.
First, ensure the original Switch console has been deactivated (via Nintendo), which can be done remotely through your Nintendo Account via the official website.
Next, if you haven't done it yet, link your Nintendo Account (via Nintendo) to the new Switch console.
Log into the eShop on the Switch using your Nintendo Account, which will designate it as the primary console.
You can download cloud backups of your game saves — if you have a Switch Online subscription and have been using the feature.
You can also access your account's download history through the eShop and begin installing any of the digital games you've previously purchased. This will, of course, take longer when dealing with more or larger games and will require an adequate amount of storage space.