​Mobile in Sub-Saharan Africa: Can world's fastest-growing mobile region keep it up?
Sub-Saharan Africa is a large, diverse region, encompassing 37 countries ranging from South Africa and Nigeria, to Angola, Cameroon, and Mali.
It's a region where mobile technology is going through a major period of change, according to trade body the GSMA. More than 90 percent of the population were covered by 2G networks at the end of 2017, but more advanced networks are now beginning to take hold.
"Future growth opportunities will increasingly be concentrated in rural and low-ARPU (average revenue per user) markets, as well as younger demographic groups," the GSMA notes in its most recent report on the region.
"World Bank data indicates that around 40 percent of the population in the region is under the age of 16, a demographic segment that has significantly lower levels of mobile ownership than the population as a whole."
Other growth considerations include the cost of services for less affluent consumers and the volume of customers, about 50 percent, living in rural environments.
Here's what you need to know about the current and future mobile landscape in the region.
State of play: 10 key stats about mobile in Africa
Three-quarters of the population have a SIM connection. That translates to 747 million people.
However, mobile subscriber penetration is just 44 percent, well behind a global average of 66 percent.
Despite this, with 444 million mobile subscribers, the region is home to nearly nine percent of all global mobile subscriptions.
Around a third of mobile users, 250 million, have a smartphone.
The number of mobile internet subscribers in Sub-Saharan Africa has quadrupled since the start of the decade. For many users it's the only way they can get online.
Mobile broadband is currently available to two-thirds of the regional population.
That means 400 million people in the region cannot access mobile broadband services at present, due to a lack of coverage.
Six new 4G networks launched in the first half of 2018. There are now 120 such networks in the region. New networks and cheaper smartphones are helping drive the transition to mobile broadband.
Getting online is expensive. Purchasing a handset and 500MB of data costs an average 10 percent of monthly income.
At the end of 2017, there were 135 live mobile money services found in 39 countries across the region, with 122 million active accounts.



Image: Strategy Analytics

Looking ahead: 10 predictions for 2025
As well as outlining current market data, the GSMA also set out how it expects the Sub-Saharan mobile ecosystem to evolve.
By 2025 mobile broadband will account for 87 percent of mobile connections. The current figure for these services is 38 percent.
3G will account for 60 percent of all mobile connections by 2025.
Nearly 300 million new subscribers are expected to access the mobile internet in the next seven years.
Active SIM connections are predicted to hit one billion in 2025, up from 747 million today.
Subscriber numbers are expected to account for half the population in 2023, rising to 52 percent in 2025.



Image: GSMA Intelligence


By 2025 it's anticipated that 634 million people in the region will be mobile subscribers, up from 44 percent and 444 million people in 2017.
After witnessing aggressive subscriber growth in recent years, the adoption curve will slow to "half the level recorded over the preceding five years", the report notes.
However, at a CAGR of 4.8 percent for the period 2017-2022, the regional subscribe base will still be "more than double the global growth rate over the same period".
It's expected that there will be 690 million active smartphones in Sub-Saharan Africa. That's a growth of 440 million handsets in the next eight years.
Sub-Saharan Africa will be the last region to see 5G services launch, the GSMA predicts. It expects the first commercial 5G services to be launched in the region by 2021, with 12 million 5G connections, or about 2.6 percent of the total connection base, in 2025.
Unlocking mobile's potential: three key considerations
Although the picture painted by the GSMA is predominantly a positive one, the Sub-Saharan region will continue to lag behind others on key indices such as smartphone penetration and mobile subscriptions.
Nonetheless, the report highlights how MNO capex, mobile operator and start-up initiatives, as well as the rise of tech hubs in the region, are all playing a role in turning this potential into a reality.
On the issue of reaching rural audiences alone, the report notes: "For operators, revenue from rural sites is around a 10th of that for urban areas, owing to the low purchasing power of most rural dwellers, while backhaul, power and taxes account for up to 60 percent of the cost of providing mobile broadband in rural areas."
For mobile ambitions in the region to be realized, several critical factors need to continue to be addressed. Here are three of them:
1. Making mobile and mobile internet more affordable
A handset and 500MB of data costs 10 percent of an average monthly income, double the five percent threshold recommended by the UN Broadband Commission. Addressing this issue will therefore be essential for driving future growth.
Data and subscription packages that cater for less cash-rich consumers are one part of the equation. But, alongside that shift, making handsets cheaper for consumers will also help.
The cost of purchasing smartphones has dropped considerably in the past five years. As the report observes: "The average selling price of smartphones has fallen below $120 in most markets, with sub-$100 smartphones, mostly from Asian manufacturers such as Gionee and Tecno, now widely available across the region."
Government policies can also play a role in this area, driving digital inclusion and growing the digital economy in the process. In Ghana, proposals to remove customs duties of 20 percent on handsets and smartphones have been predicted to contribute to an additional three million handset purchases, with nearly one million of these being 3G-enabled devices.
2. Creating compelling reasons to get connected
Tech companies are seeking to tap into developing markets like Sub-Saharan Africa by offering 'skinnier' versions of their apps. Using minimal data, products like Facebook Lite, Facebook Messenger Lite, Twitter Lite, Google Go and others, are quicker and cheaper to use than their full-data equivalents.
Last year Google's CEO Sundar Pichai announced plans to train 100,000 software developers in Nigeria, Kenya, and South Africa, as well as creating in-person and online training packages designed to help 10 million people across the continent become more employable by developing their online skills.
SEE: IT pro's guide to the evolution and impact of 5G technology (free PDF)
Elsewhere, opportunities abound for governments in the region to offer more mobile-services — including mobile payment services, as well as products and content in different languages.
The total value of mobile money transactions in Sub-Saharan Africa last year was worth $19.9bn, as individual transactions grew by 17.9 per cent to 1.2 billion year over year.
3. Incentivizing investment and expansion
Finally, given the cost of expanding service provision, stakeholders will also need to work together to do so in the most cost-effective manner possible.
Elements of this collaboration, such as infrastructure sharing, are already in place. We can expect to see more of this type of activity in the future.
Other considerations include: effective use of spectrum, including harnessing wavelengths currently being used for other services like analog TV, tax reform, and other policy levers designed to encourage operator investment.
The strategic investment of government funds to support training, local content provision, the move to m-government and improving mobile connectivity should also not be overlooked.
In 2017, for example, the Zimbabwean government approved a $250m project designed to improve mobile provision in rural areas, by funding more than 600 towers and base stations in areas with poor connectivity.
Given the size and scale of Sub-Saharan Africa, the evolution of the mobile landscape won't be consistent. Due to the cost and technical challenges of upgrading networks and reaching new consumers, stakeholders must work together if the region's mobile future is to be realized.
These joint efforts will require continued investment in infrastructure, content and skills, as mobile technologies continue to positively impact the lives of millions of people across the region.
There are already promising signs that this change is happening, but the size and scale of this challenge should not be underestimated.
Previous and related coverage
Where next for mobile in the Middle East? Big changes are coming
The Middle East and North Africa is a complex region, but mobile usage and services are changing fast.
What's driving Middle East's rush to social media?
The rise of visually orientated social networks, video, and messaging apps is helping shape usage.
Cybercrime: Why can't the Middle East get to grips with the threats?
The region's been investing heavily in tackling cybercrime but remains disproportionately affected.
Skype banned, WhatsApp blocked: What's Middle East's problem with messenger apps?
Some Middle Eastern countries seem to have a difficult relationship with VoIP services and messenger apps.
Get ready for Africa to emerge as a cybersecurity powerhouse TechRepublic
Africa's growing technology adoption and economy means increased potential for impactful cyberevents, says IBM Security's Caleb Barlow.
New Google Go app tackles slow internet speeds in Africa CNET
Google Go reduces the amount of data needed to display search results by 40 percent.
Source link
Can You Use An Xbox Controller On Nintendo Switch?
It's worth noting that some of the Xbox controller's functions do not work on Switch, nor are many of the Switch's unique features supported by the controller. Specifically, it lacks support for rumble, NFC, analog triggers, trigger vibration, the audio jack, IR input, and the LED doesn't correlate to any Switch functions, including player indicators. You also can't wake the Switch up from sleep using the controller.
You'll also want to keep in mind that Xbox controllers swap the positions of several face buttons in relation to Switch controllers, so the labels won't match up perfectly. For instance, the positioning of the "A" and "B" buttons on the Xbox controller correspond to "B" and "A" on the Switch controller, respectively. The same is true for the "X" and "Y" buttons. Otherwise, the Switch's controller scheme perfectly matches the Xbox controller's available buttons and triggers.
None of this is the fault of the 8Bitdo adapter. These limitations are simply the byproduct of marrying two devices that were not designed to work together. If that's a dealbreaker, then your best bet is to buy an officially licensed Nintendo Switch controller. The best alternative for Xbox fans is Nintendo's official Pro Controller.
The Incredible Capabilities Of The US Air Force's New Supersonic Training Jet
According to the USAF, Boeing will produce over 350 Red Hawk aircraft as part of a contract worth more than $9.2 billion. There's also speculation that the Red Hawk's design could be easily modified to incorporate radar systems, electronic warfare equipment, or under-wing weapon stations, making it an attractive purchase for other U.S. military branches or even international allies.
The training jet features a glass touchscreen cockpit that provides a more modern flair — as well as a more practical piloting experience, one would hope — and tiered seating, so both the instructor and the trainee have sufficient ability to pilot the aircraft without visual obstructions.
Production models of the T-7A Red Hawk sport a red tail section, a reference to the red-painted tails of the aircraft flown during World War II by the 99th Fighter Squadron, better known as the "Tuskegee Airmen." One of the planes they flew was the Curtiss P-40 Warhawk, which influenced the design of the T-7A Red Hawk.
In the same tradition of equality that the Red Hawk's name and design aspire to embody, the training jet is built to safely accommodate a wider variety of pilot body types and sizes than previous jets, allowing for a larger recruiting pool including more women than has historically been the case. Let's hope similar updates make their way to the USAF's other next-gen aircraft.
How To Transfer Digital Games To A New Nintendo Switch
Let's say you've just gotten ahold of a brand-new Nintendo Switch console, but this isn't your first. Maybe it's an upgrade to the fancy OLED model, perhaps you've been sharing with family, and this one is just for you. Whatever the reason, if you already have or have had a Switch, and now you have a new one, you don't have to start building up an entirely new games library (or even start your games over).
Thankfully there are ways to transfer your digital games from one Switch to another, along with your user accounts and saves. While the process is a bit different depending on whether you have access to that original Switch console, it's still doable either way. Just know that it might take a little more effort without the console where all of your info was previously saved. And you'll likely lose any game progress that wasn't backed up using Cloud saves.
If you still have the original Switch console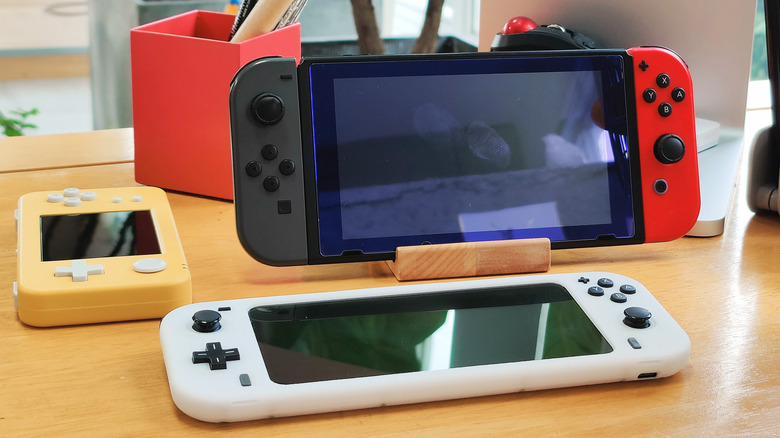 Jack Skeens/Shutterstock
Assuming you do have both the previous Switch and the new one you want to transfer everything over to, here's what you do:
From the original Switch, open System Settings (the icon looks like a gear) on the Home menu.
Select Users, then select Transfer Your User Data.
Select Next twice, and then choose Source Console to mark this Switch as the transferrer.
Select Continue, then grab the new Switch console to which you want to move everything.
From the new Switch, open System Settings and select Users, then Transfer Your User Data.
Select Next, Next again, then choose Target Console to designate this Switch as the transferee.
Select Sign-in, then sign into your Nintendo Account using either the associated email or sign-in ID.
Select Sign-in, then Next, then go back to the original Switch.
Wait for the systems to find each other, then select Transfer.
Wait until the transfer is complete (this may take several minutes), then select End to finish.
If you no longer have the original Switch console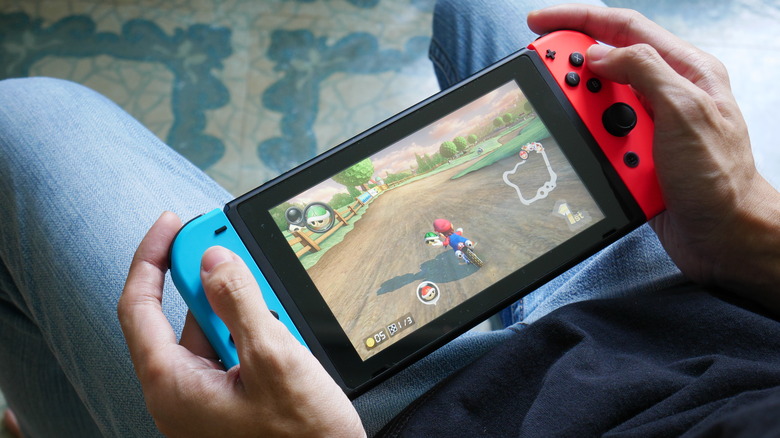 Wachiwit/Shutterstock
Things are a little more time-consuming without access to the original Switch console on which your account was created or primarily used. Also, note that any saved data that hasn't been backed up via Cloud storage will not be able to carry over.
First, ensure the original Switch console has been deactivated (via Nintendo), which can be done remotely through your Nintendo Account via the official website.
Next, if you haven't done it yet, link your Nintendo Account (via Nintendo) to the new Switch console.
Log into the eShop on the Switch using your Nintendo Account, which will designate it as the primary console.
You can download cloud backups of your game saves — if you have a Switch Online subscription and have been using the feature.
You can also access your account's download history through the eShop and begin installing any of the digital games you've previously purchased. This will, of course, take longer when dealing with more or larger games and will require an adequate amount of storage space.