Assistant treasurer racks up AU$2,000-a-month internet bill footed by taxpayers
Gaffe-prone Australian Assistant Treasurer Stuart Robert is being scrutinised again after charging taxpayers more than AU$2,000 a month for his home internet bills.
Robert was only returned to the federal frontbench a few weeks ago, after he was sacked in 2016 over a trip to China for a mining company he was financially linked with.
But now, the federal government is scrutinising his AU$90-a-day home internet bills, which are dramatically higher than those of all other MPs.
"I've asked the special minister of state to report back to me," Prime Minister Scott Morrison told reporters in Tasmania on Friday.
"Once I've heard from the special minister of state, then we'll take the next step.
"I think [voters would] want an explanation, and that's why I've asked for one."
Robert's May bill alone totalled AU$2,832, while the vast majority of other MPs spent under AU$300 a month, and most about AU$100 a month.
Parliamentary expense records in the three months to May show Robert spent more than AU$2,000 a month on average for his Gold Coast residence.
The Queensland Liberal MP told Fairfax Media that connectivity issues were responsible for the high charges, because he had to use a wireless service as cheaper connections were unavailable when the service was installed.
"I went and checked my most recent reports; it's about AU$100 a month," Labor leader Bill Shorten told reporters in Melbourne.
"There is no doubt that Stuart Robert is a very controversial figure, and that controversy seems to follow him."
Robert last week confused debt and deficit in a TV interview, and was caught taking a selfie when the interview began.
Labor MP Graham Perrett, who pays less than AU$100 for an unlimited internet deal, said it's "bizarre" that the assistant treasurer can't do better.
"Any normal person would be making a call to their internet provider to work out what's going on," he told Sky News on Friday.
The assistant treasurer said he racked up a high bill in May because he used 300 gigabytes of data, so he had to pay for extra data after exceeding his 50GB limit.
Robert has been charging taxpayers more than AU$1,000 per month for data at his home since 2016.
"My family home is located a significant distance from the telephone exchange, resulting in poor broadband internet connectivity," Robert said in a statement late on Friday afternoon.
"At the time, a 4G home Wi-Fi internet connection was the only way to receive reliable and stable internet access
"My internet, like many in semi-rural areas, was previously unreliable, which interfered with my ability to perform my parliamentary and ministerial duties."
The NBN's rollout map shows building has begun in the Gold Coast, where the assistant treasurer's electoral office and postal address is located.
Robert confirmed that he has an NBN installation appointment booked.
"When installed, this will result in an immediate drop in costs to a level similar to other parliamentarians."
The treatment of Robert has contrasted sharply with the attitude of former Prime Minister Malcolm Turnbull, who in 2014, when he was Communications Minister and had responsibility for the National Broadband Network, famously roused on a member of the public who complained about a lack of fixed-line broadband.
"Just curious:- if connectivity was so vital to you why did you buy a house where there was no broadband available?" Turnbull tweeted at the time.
Speaking in June 2016, disgraced former Deputy Prime Minsiter Barnaby Joyce claimed that internet speeds of 25Mbps were good enough for Australians living in regional and remote parts of the nation.
A week earlier, then Industry, Innovation and Science Minister Christopher Pyne mirrored the same sentiment.
"They simply didn't need the speeds that Labor was promising," Pyne said at the time.
This week, NBN revealed that more than 1,500 of its fixed-wireless cells had at least one service downloading more than 1TB of data during the month of May.
Despite this, NBN said in response to a Senate Estimates Question on Notice that it had forecast to have less than 1.4 percent of fixed-wireless users on the 100/40Mbps speed tier by 2022, before the company ripped up plans to offer such services.
As the national broadband wholesaler looks to end its discount at the end of this month that attempted to move users from lower speeds up to 50Mbps plans, retailer Aussie Broadband told ZDNet that ISPs will need to choose between offering high- or low-speed tiers, as they won't be able to do both.
"Aussie has chosen to play in the higher end of the market using the new bundled offering exclusively, as it provides sufficient CVC capacity to ensure a good experience for customers," Aussie Broadband MD Phillip Britt told ZDNet on Thursday.
"In our view, it will not be possible for providers offering a service under AU$55 a month floor price and an unlimited offering under AU$69 using the bundles.
"Providers below this price point will most likely be short-changing their customers on the CVC bandwidth provisioned."
With AAP
Related Coverage
Aussie Broadband forced to shelve lower-priced services after NBN pricing changes
The end of NBN's temporary discount on 50Mbps services means smaller retailers may have to stop offering lower-end products in order to make a profit, according to Aussie Broadband.
NBN: 1,500 fixed-wireless users download over 1TB in a month
NBN had forecast just 1.4 percent of fixed-wireless users to take up its 100Mbps service, with the company also pointing the finger at more than 1,500 'extreme' users who individually downloaded more than 1TB during May.
NBN upgrades transit network to 19.2Tbps per fibre link
The upgraded capacity on NBN's backbone fibre-optic transit network will initially be available in Sydney before being switched on across the nation.
Telstra drops FY19 guidance by AU$300m due to NBN Corporate Plan
Telstra's FY19 total income will be AU$300 million lower than previously forecast, while EBITDA will be AU$100 million lower and net one-off NBN receipts AU$200 million lower due to NBN's Corporate Plan.
Source link
Can You Use An Xbox Controller On Nintendo Switch?
It's worth noting that some of the Xbox controller's functions do not work on Switch, nor are many of the Switch's unique features supported by the controller. Specifically, it lacks support for rumble, NFC, analog triggers, trigger vibration, the audio jack, IR input, and the LED doesn't correlate to any Switch functions, including player indicators. You also can't wake the Switch up from sleep using the controller.
You'll also want to keep in mind that Xbox controllers swap the positions of several face buttons in relation to Switch controllers, so the labels won't match up perfectly. For instance, the positioning of the "A" and "B" buttons on the Xbox controller correspond to "B" and "A" on the Switch controller, respectively. The same is true for the "X" and "Y" buttons. Otherwise, the Switch's controller scheme perfectly matches the Xbox controller's available buttons and triggers.
None of this is the fault of the 8Bitdo adapter. These limitations are simply the byproduct of marrying two devices that were not designed to work together. If that's a dealbreaker, then your best bet is to buy an officially licensed Nintendo Switch controller. The best alternative for Xbox fans is Nintendo's official Pro Controller.
The Incredible Capabilities Of The US Air Force's New Supersonic Training Jet
According to the USAF, Boeing will produce over 350 Red Hawk aircraft as part of a contract worth more than $9.2 billion. There's also speculation that the Red Hawk's design could be easily modified to incorporate radar systems, electronic warfare equipment, or under-wing weapon stations, making it an attractive purchase for other U.S. military branches or even international allies.
The training jet features a glass touchscreen cockpit that provides a more modern flair — as well as a more practical piloting experience, one would hope — and tiered seating, so both the instructor and the trainee have sufficient ability to pilot the aircraft without visual obstructions.
Production models of the T-7A Red Hawk sport a red tail section, a reference to the red-painted tails of the aircraft flown during World War II by the 99th Fighter Squadron, better known as the "Tuskegee Airmen." One of the planes they flew was the Curtiss P-40 Warhawk, which influenced the design of the T-7A Red Hawk.
In the same tradition of equality that the Red Hawk's name and design aspire to embody, the training jet is built to safely accommodate a wider variety of pilot body types and sizes than previous jets, allowing for a larger recruiting pool including more women than has historically been the case. Let's hope similar updates make their way to the USAF's other next-gen aircraft.
How To Transfer Digital Games To A New Nintendo Switch
Let's say you've just gotten ahold of a brand-new Nintendo Switch console, but this isn't your first. Maybe it's an upgrade to the fancy OLED model, perhaps you've been sharing with family, and this one is just for you. Whatever the reason, if you already have or have had a Switch, and now you have a new one, you don't have to start building up an entirely new games library (or even start your games over).
Thankfully there are ways to transfer your digital games from one Switch to another, along with your user accounts and saves. While the process is a bit different depending on whether you have access to that original Switch console, it's still doable either way. Just know that it might take a little more effort without the console where all of your info was previously saved. And you'll likely lose any game progress that wasn't backed up using Cloud saves.
If you still have the original Switch console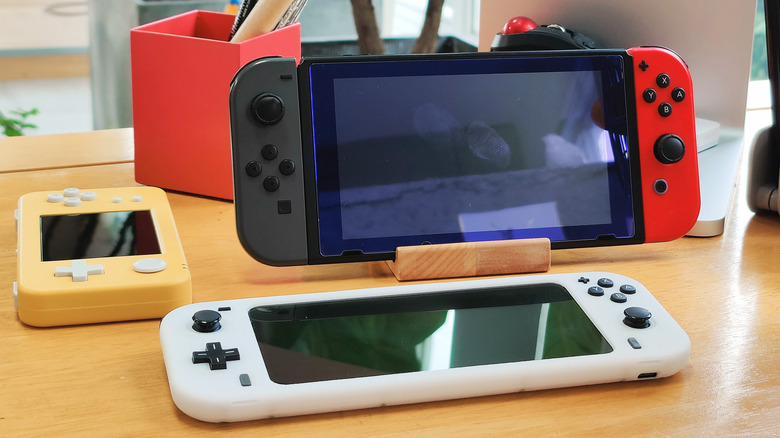 Jack Skeens/Shutterstock
Assuming you do have both the previous Switch and the new one you want to transfer everything over to, here's what you do:
From the original Switch, open System Settings (the icon looks like a gear) on the Home menu.
Select Users, then select Transfer Your User Data.
Select Next twice, and then choose Source Console to mark this Switch as the transferrer.
Select Continue, then grab the new Switch console to which you want to move everything.
From the new Switch, open System Settings and select Users, then Transfer Your User Data.
Select Next, Next again, then choose Target Console to designate this Switch as the transferee.
Select Sign-in, then sign into your Nintendo Account using either the associated email or sign-in ID.
Select Sign-in, then Next, then go back to the original Switch.
Wait for the systems to find each other, then select Transfer.
Wait until the transfer is complete (this may take several minutes), then select End to finish.
If you no longer have the original Switch console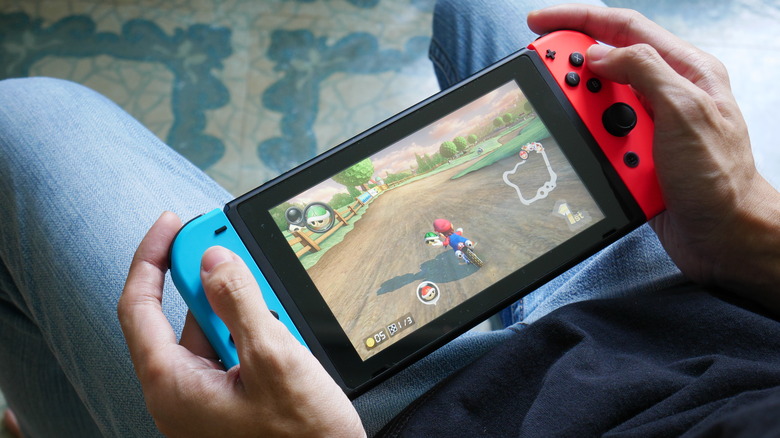 Wachiwit/Shutterstock
Things are a little more time-consuming without access to the original Switch console on which your account was created or primarily used. Also, note that any saved data that hasn't been backed up via Cloud storage will not be able to carry over.
First, ensure the original Switch console has been deactivated (via Nintendo), which can be done remotely through your Nintendo Account via the official website.
Next, if you haven't done it yet, link your Nintendo Account (via Nintendo) to the new Switch console.
Log into the eShop on the Switch using your Nintendo Account, which will designate it as the primary console.
You can download cloud backups of your game saves — if you have a Switch Online subscription and have been using the feature.
You can also access your account's download history through the eShop and begin installing any of the digital games you've previously purchased. This will, of course, take longer when dealing with more or larger games and will require an adequate amount of storage space.