Aussie Broadband kicks off network upgrade
Aussie Broadband has announced an upgrade of its nationwide core network, as well as purchasing international capacity across subsea cables, with both projects to be complete by late April.
The National Broadband Network (NBN) retail service provider said it would be using Cisco's ASR9K and NCS5500 platforms for the core network upgrade, allowing the network to support up to half a million customers after it connected the 100,000th customer in January.
Upon the project's completion, Aussie Broadband will have a 400Gbps backbone between points of presence (POPs) that are in the same state; 200Gbps between Sydney and Melbourne; 100Gbps between Sydney and Perth; 100Gbps between Melbourne and Perth; 40Gbps between Sydney and Brisbane; 20Gbps between Sydney and Adelaide; and 10Gbps between Adelaide and Perth.
"We're also delighted to say that we will shortly complete protected 10Gbps links to all NBN POIs other than Tasmania, with the final four links due in the next 30 days," Aussie Broadband Managing Director Phillip Britt said.
Aussie Broadband also worked with Telstra Wholesale on the network upgrade and expansion, with Britt saying his company has already seen a reduction in outages and in areas affected by its stop-sell policy.
The RSP has also been purchasing international capacity, including on the Hawaiki, Southern Cross, and Vocus subsea cable systems, with plans to purchase capacity on Indigo West in the future.
"We have purchased capacity on both legs of Southern Cross and the new Hawaiki Cable system to San Jose and Los Angeles. To match this, we will establish points of presence at Coresite SV1 in San Jose and Coresite One Wilshire in Los Angeles," Britt said.
"We have also purchased capacity on the Vocus Australia Singapore Cable and will acquire capacity on Indigo West once available, again to be matched by a point of presence at Equinix SG1 in Singapore."
Speaking with ZDNet in November, Britt had flagged a AU$4 million investment to upgrade its network and capacity as it adds between 5,000 and 7,000 new customers per month.
Its initial network was built for around 130,000 subscribers, but Aussie Broadband predicts that it will reach around 180,000 customers by June this year.
Britt also sees Aussie Broadband growing to more than 200 employees by mid-2019, as it has a policy of one support staff member per 5,000 customers.
Speaking on Aussie Broadband's NBN outage in October, Britt revealed to ZDNet that it was the result of a betting agency customer being targeted during the AFL grand final weekend.
"We have a customer that's a betting agency, and we believe that we were targeted to target them," the MD explained.
"What happened was there was a lot of voice requests hitting our firewall, and we probably didn't have enough capacity in that firewall infrastructure, and we were fairly open about that. Basically, that triggered this cascading failure from there, we lost authentication out to our equipment, so about half the customers couldn't authenticate anymore.
"Part of what we've done to fix that is all the authentication mechanisms now have a separate direct pathway to each of the POIs and the aggregation points that we use, so that if that firewall infrastructure gets hit again … we might lose access to some of our internal services. We're still working that through, getting those changes made."
Related Coverage
Can You Use An Xbox Controller On Nintendo Switch?
It's worth noting that some of the Xbox controller's functions do not work on Switch, nor are many of the Switch's unique features supported by the controller. Specifically, it lacks support for rumble, NFC, analog triggers, trigger vibration, the audio jack, IR input, and the LED doesn't correlate to any Switch functions, including player indicators. You also can't wake the Switch up from sleep using the controller.
You'll also want to keep in mind that Xbox controllers swap the positions of several face buttons in relation to Switch controllers, so the labels won't match up perfectly. For instance, the positioning of the "A" and "B" buttons on the Xbox controller correspond to "B" and "A" on the Switch controller, respectively. The same is true for the "X" and "Y" buttons. Otherwise, the Switch's controller scheme perfectly matches the Xbox controller's available buttons and triggers.
None of this is the fault of the 8Bitdo adapter. These limitations are simply the byproduct of marrying two devices that were not designed to work together. If that's a dealbreaker, then your best bet is to buy an officially licensed Nintendo Switch controller. The best alternative for Xbox fans is Nintendo's official Pro Controller.
The Incredible Capabilities Of The US Air Force's New Supersonic Training Jet
According to the USAF, Boeing will produce over 350 Red Hawk aircraft as part of a contract worth more than $9.2 billion. There's also speculation that the Red Hawk's design could be easily modified to incorporate radar systems, electronic warfare equipment, or under-wing weapon stations, making it an attractive purchase for other U.S. military branches or even international allies.
The training jet features a glass touchscreen cockpit that provides a more modern flair — as well as a more practical piloting experience, one would hope — and tiered seating, so both the instructor and the trainee have sufficient ability to pilot the aircraft without visual obstructions.
Production models of the T-7A Red Hawk sport a red tail section, a reference to the red-painted tails of the aircraft flown during World War II by the 99th Fighter Squadron, better known as the "Tuskegee Airmen." One of the planes they flew was the Curtiss P-40 Warhawk, which influenced the design of the T-7A Red Hawk.
In the same tradition of equality that the Red Hawk's name and design aspire to embody, the training jet is built to safely accommodate a wider variety of pilot body types and sizes than previous jets, allowing for a larger recruiting pool including more women than has historically been the case. Let's hope similar updates make their way to the USAF's other next-gen aircraft.
How To Transfer Digital Games To A New Nintendo Switch
Let's say you've just gotten ahold of a brand-new Nintendo Switch console, but this isn't your first. Maybe it's an upgrade to the fancy OLED model, perhaps you've been sharing with family, and this one is just for you. Whatever the reason, if you already have or have had a Switch, and now you have a new one, you don't have to start building up an entirely new games library (or even start your games over).
Thankfully there are ways to transfer your digital games from one Switch to another, along with your user accounts and saves. While the process is a bit different depending on whether you have access to that original Switch console, it's still doable either way. Just know that it might take a little more effort without the console where all of your info was previously saved. And you'll likely lose any game progress that wasn't backed up using Cloud saves.
If you still have the original Switch console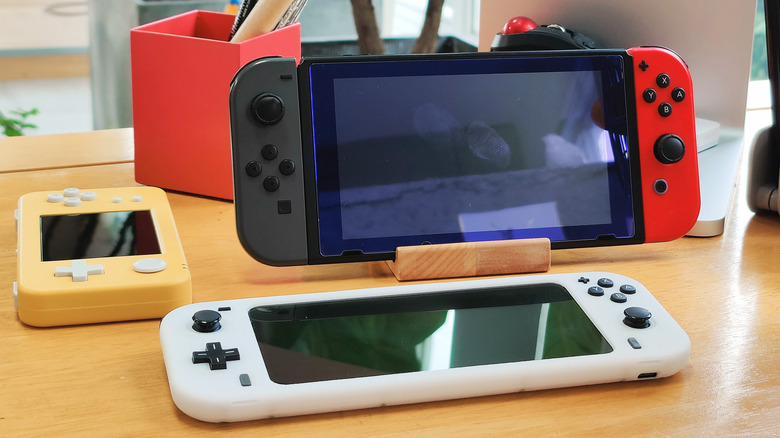 Jack Skeens/Shutterstock
Assuming you do have both the previous Switch and the new one you want to transfer everything over to, here's what you do:
From the original Switch, open System Settings (the icon looks like a gear) on the Home menu.
Select Users, then select Transfer Your User Data.
Select Next twice, and then choose Source Console to mark this Switch as the transferrer.
Select Continue, then grab the new Switch console to which you want to move everything.
From the new Switch, open System Settings and select Users, then Transfer Your User Data.
Select Next, Next again, then choose Target Console to designate this Switch as the transferee.
Select Sign-in, then sign into your Nintendo Account using either the associated email or sign-in ID.
Select Sign-in, then Next, then go back to the original Switch.
Wait for the systems to find each other, then select Transfer.
Wait until the transfer is complete (this may take several minutes), then select End to finish.
If you no longer have the original Switch console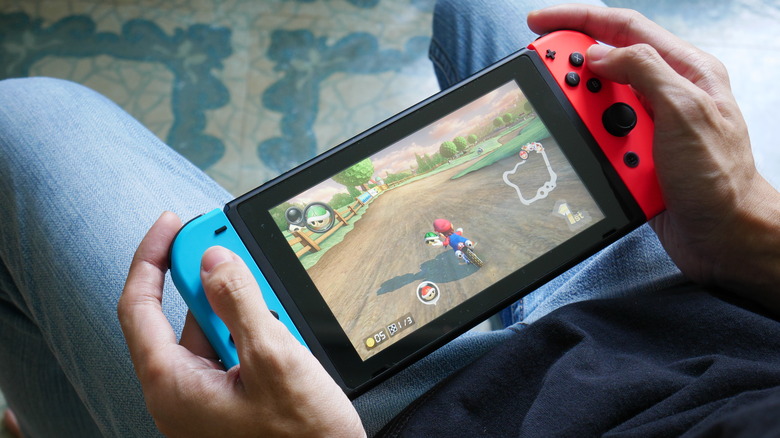 Wachiwit/Shutterstock
Things are a little more time-consuming without access to the original Switch console on which your account was created or primarily used. Also, note that any saved data that hasn't been backed up via Cloud storage will not be able to carry over.
First, ensure the original Switch console has been deactivated (via Nintendo), which can be done remotely through your Nintendo Account via the official website.
Next, if you haven't done it yet, link your Nintendo Account (via Nintendo) to the new Switch console.
Log into the eShop on the Switch using your Nintendo Account, which will designate it as the primary console.
You can download cloud backups of your game saves — if you have a Switch Online subscription and have been using the feature.
You can also access your account's download history through the eShop and begin installing any of the digital games you've previously purchased. This will, of course, take longer when dealing with more or larger games and will require an adequate amount of storage space.