Cities that didn't win HQ2 shouldn't be counted out – TechCrunch
The more than year-long dance between cities and Amazon for its second headquarters is finally over, with New York City and Washington, DC, capturing the big prize. With one of the largest economic development windfalls in a generation on the line, 238 cities used every tactic in the book to court the company – including offering to rename a city "Amazon" and appointing Jeff Bezos "mayor for life."
Now that the process, and hysteria, are over, and cities have stopped asking "how can we get Amazon," we'd like to ask a different question: How can cities build stronger start-up ecosystems for the Amazon yet to be built?
In September 2017, Amazon announced that it would seek a second headquarters. But rather than being the typical site selection process, this would become a highly publicized Hunger Games-esque scenario.
An RFP was proffered on what the company sought, and it included everything any good urbanist would want, with walkability, transportation and cultural characteristics on the docket. But of course, incentives were also high on the list.
Amazon could have been a transformational catalyst for a plethora of cities throughout the US, but instead, it chose two superstar cities: the number one and five metro areas by GDP which, combined, amounts to a nearly $2 trillion GDP. These two metro areas also have some of the highest real estate prices in the country, a swath of high paying jobs and of course power — financial and political — close at hand.
Perhaps the take-away for cities isn't that we should all be so focused on hooking that big fish from afar, but instead that we should be growing it in our own waters. Amazon itself is a great example of this. It's worth remembering that over the course of a quarter century, Amazon went from a garage in Seattle's suburbs to consuming 16 percent — or 81 million square feet — of the city's downtown. On the other end of the spectrum, the largest global technology company in 1994 (the year of Amazon's birth) was Netscape, which no longer exists.
The upshot is that cities that rely only on attracting massive technology companies are usually too late.
At the National League of Cities, we think there are ways to expand the pie that don't reinforce existing spatial inequalities. This is exactly the idea behind the launch of our city innovation ecosystems commitments process. With support from the Schmidt Futures Foundation, fifty cities, ranging from rural townships, college towns, and major metros, have joined with over 200 local partners and leveraged over $100 million in regional and national resources to support young businesses, leverage technology and expand STEM education and workforce training for all.
The investments these cities are making today may in fact be the precursor to some of the largest tech companies of the future.
With that idea in mind, here are eight cities that didn't win HQ2 bids but are ensuring their cities will be prepared to create the next tranche of high-growth startups. 
Austin
Austin just built a medical school adjacent to a tier one research university, the University of Texas. It's the first such project to be completed in America in over fifty years. To ensure the addition translates into economic opportunity for the city, Austin's public, private and civic leaders have come together to create Capital City Innovation to launch the city's first Innovation District at the new medical school. This will help expand the city's already world class startup ecosystem into the health and wellness markets.
Baltimore
Baltimore is home to over $2 billion in academic research, ranking it third in the nation behind Boston and Philadelphia. In order to ensure everyone participates in the expanding research-based startup ecosystem, the city is transforming community recreation centers into maker and technology training centers to connect disadvantaged youth and families to new skills and careers in technology. The Rec-to-Tech Initiative will begin with community design sessions at four recreation centers, in partnership with the Digital Harbor Foundation, to create a feasibility study and implementation plan to review for further expansion.
Buffalo
The 120-acre Buffalo Niagara Medical Center (BNMC) is home to eight academic institutions and hospitals and over 150 private technology and health companies. To ensure Buffalo's startups reflect the diversity of its population, the Innovation Center at BNMC has just announced a new program to provide free space and mentorship to 10 high potential minority- and/or women-owned start-ups.
Denver
Like Seattle, real estate development in Denver is growing at a feverish rate. And while the growth is bringing new opportunity, the city is expanding faster than the workforce can keep pace. To ensure a sustainable growth trajectory, Denver has recruited the Next Generation City Builders to train students and retrain existing workers to fill high-demand jobs in architecture, design, construction and transportation. 
Providence
With a population of 180,000, Providence is home to eight higher education institutions – including Brown University and the Rhode Island School of Design – making it a hub for both technical and creative talent. The city of Providence, in collaboration with its higher education institutions and two hospital systems, has created a new public-private-university partnership, the Urban Innovation Partnership, to collectively contribute and support the city's growing innovation economy. 
Pittsburgh
Pittsburgh may have once been known as a steel town, but today it is a global mecca for robotics research, with over 4.5 times the national average robotics R&D within its borders. Like Baltimore, Pittsburgh is creating a more inclusive innovation economy through a Rec-to-Tech program that will re-invest in the city's 10 recreational centers, connecting students and parents to the skills needed to participate in the economy of the future. 
Tampa
Tampa is already home to 30,000 technical and scientific consultant and computer design jobs — and that number is growing. To meet future demand and ensure the region has an inclusive growth strategy, the city of Tampa, with 13 university, civic and private sector partners, has announced "Future Innovators of Tampa Bay." The new six-year initiative seeks to provide the opportunity for every one of the Tampa Bay Region's 600,000 K-12 students to be trained in digital creativity, invention and entrepreneurship.
These eight cities help demonstrate the innovation we are seeing on the ground now, all throughout the country. The seeds of success have been planted with people, partnerships and public leadership at the fore. Perhaps they didn't land HQ2 this time, but when we fast forward to 2038 — and the search for Argo AI, SparkCognition or Welltok's new headquarters is well underway — the groundwork will have been laid for cities with strong ecosystems already in place to compete on an even playing field.
Here's How To Lock Chrome's Incognito Mode Tabs With Your Fingerprint On iPhone
Millions of internet users worldwide use Chrome's Incognito mode to hide and protect their web activity. Google mentions on a support page that Incognito mode doesn't keep a record of the websites you've visited or the site data/cookies associated with the browsing session. Further, with locked Incognito Tabs on Chrome, iPhone users can be double sure about their privacy. Before the feature arrived, iPhone users had to manually close all the Incognito Tabs before handing over their phone to someone else. The locked Incognito Tabs feature locks all the Incognito Tabs in the current session behind a password or biometric entry.
Once you enable the locked Incognito Tabs feature on your iPhone, you wouldn't have to worry about anyone sneaking on your Incognito Tabs. The moment you minimize Google Chrome and open another app, or head to the home screen, Chrome will lock the Incognito Tabs. The next time you try to access the tabs, Chrome will ask you to enter your iPhone's passcode or a registered biometric match. On certain iPhone models like the iPhone 8 or the iPhone SE (2022), Chrome allows unlocking Incognito Tabs via Touch ID. On the other hand, iPhone models like the iPhone 13 and iPhone 14 ask users to access their Incognito Tabs through Face ID, as these models don't have a fingerprint scanner.
Nevertheless, whether you have an old or a new iPhone, the locked Incognito Tabs feature should come in handy. Let's discuss the steps involved in enabling the feature on an iPhone (or an iPad).
Here's how to lock Incognito Tabs on iPhone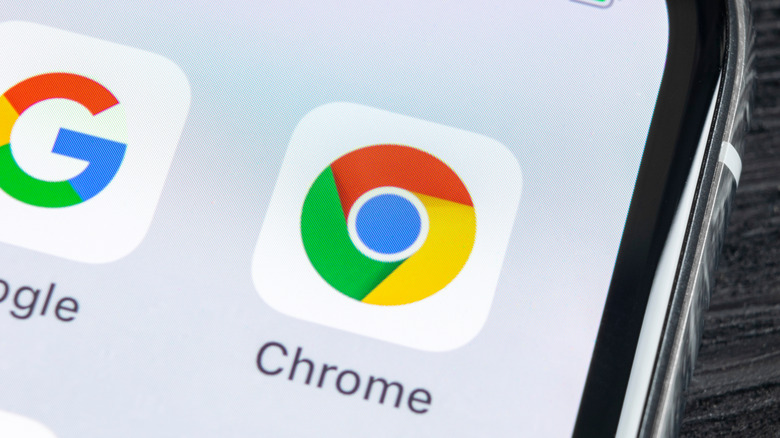 BigTunaOnline/Shutterstock
The locked Incognito Tabs feature is located in Chrome's Settings menu, and it is pretty easy to enable it. Follow the steps given below on your iPhone.
Open Google Chrome.
Press the three-dot icon at the bottom right corner of the screen. You should see a menu with a quick action list on top.
Swipe left on the list and hit the Settings option.
Now scroll down to locate and select the Privacy and security option.
In the Privacy and security menu, tap on the toggle beside Lock incognito tabs when you close Chrome. Tap Enable in the confirmation dialogue box, and you're ready.
Press Done to get out of the Settings menu and back to the browsing screen.
Upon following all the steps successfully, you should be able to activate the locked Incognito Tabs. Now, let's test the feature.
On Google Chrome's browsing window, hit the three-dot icon at the bottom right corner and tap New incognito tab.
In the incognito tab, conduct a Google search.
Once you see the search results, swipe up from the bottom edge of the display to open the Home Screen.
Now, reopen Google Chrome. You should see a button on your screen that reads Unlock with Touch ID or Unlock with Face ID.
Hit the unlock button and then place your registered finger on the Touch ID sensor, or place your iPhone in front of your face to confirm via Face ID.
Upon verifying it's you, Chrome grants access. 
Things to keep in mind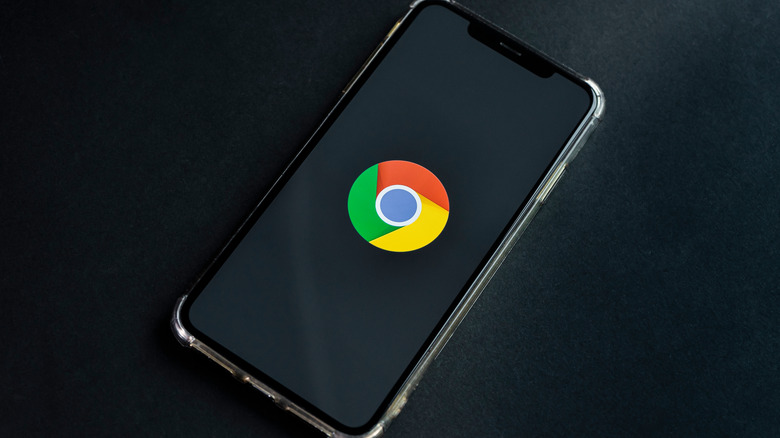 Gargantiopa/Shutterstock
Now that you know how to lock your Incognito Tabs on Chrome, here are a few things to keep in mind. You might think you'll lose your Incognito Tabs if you remove Google Chrome from the recent apps list, but that is not true. Even if you do that and reopen the app, you'll find your Incognito Tabs intact behind the biometric lock.
The second thing you should know is that Chrome only locks the Incognito Tabs upon minimizing the app, which means that your regular tabs are still vulnerable. In other words, even with the locked Incognito Tabs feature enabled, anyone can access the regular tabs on your iPhone. If the feature is unavailable on your iPhone, update the Google Chrome web browser from the App Store. Since it has been around for over a year, there's a good chance you won't need to update Chrome to get the feature.
Overall, the locked Incognito Tabs feature acts as an extra layer of security over anonymous browsing, as it's not just the digital threats you need to stay away from – you need to handle the bad actors in real life.
2024 BMW X5 And X6 Show Why Electrification Really Matters
Automakers are pushing, now more than ever, to electrify their lineups. Whether through plug-in hybrids that can go a few miles while running only on batteries, or by making fully electric versions of cars, several automakers are continuing to iterate on electric car design. 
Chevrolet made waves with the long-rumored Corvette E-Ray hybrid that's helped by both electric motors and a 6.2-liter V8. BMW electrified the 7-Series in the form of the 2023 BMW I7 xDrive60. That car benefitted from 544 horsepower and upwards of 310 miles of range. Cars are changing rapidly as electrification becomes more practical, and many automakers are planning on either hybridizing or electrifying their entire lineups within a few short years.
BMW just announced a host of changes to its X5 and X6 SUVs for the 2024 model year. Those changes bring a host of improvements to both models with more powerful engines, a more high-tech and contemporary interior, and a much-improved plug-in hybrid version of the X5.
Useful electrification
BMW
According to a press release from BMW, there will be two new engine choices for the X5 and X6: a twin-turbo 3-liter inline 6 that produces 375 horsepower on the X5 xDrive40i and X6 xDrive40i models, and a twin-turbo 4.4-liter V8 that throws down 523 horsepower on the X5 M60i xDrive and the X6 M60i xDrive. Both engines will benefit from a 48-volt mild hybrid system that boosts torque, and works with the eight-speed transmission to allow for a smoother driving experience. 
The real star of the new model range is the plug-in hybrid X5 xDrive50e. The revised drivetrain consists of a twin-turbo inline-6 and an electric motor that puts out 483 horsepower and 516 pound-feet of torque when working together. BMW says the plug-in X5 can accelerate from 0-60 miles per hour in 4.6 seconds, showing that a hybrid system is useful for more things than just efficiency. BMW also says that the plug-in can travel up to 40 miles on just battery power without using a drop of gas.
Modernized, capable interior
BMW
The inside of both the X5 and X6 will also feature a new 12.3-inch curved infotainment screen, and a 14.9-inch curved display for controls. Updates bring the infotainment in the X5 up to the latest BMW iDrive software, alongside a new heads-up display, Augmented View, and more modern features.
The displays will be paired with the updated BMW Operating System 8, which includes improvements to the optional driver support systems with the new Highway Assistant, and reverse assistance with optional parking assistance technology as well.
The base model X5 sDrive50i starts at $65,200, the X5 xDrive40i begins at $67,500, the plug in X5 xDrive50e has an MSRP of $72,500. The X6 xDrive40i starts at $73,900. Lastly, the M60i xDrive versions of the X5 and X6 start at $89,300 and $93,600 respectively. Prices do not reflect the $995 destination charge.
BMW says that production will begin in April of 2023 at BMW's Spartanburg, South Carolina plant.
How To Retrieve Deleted Files From iCloud
The file recovery process varies slightly between devices, but getting a deleted file back usually takes just a few steps. After you have restored a file, folder, or album, you can find it in the same destination where it was before deletion. 
If you deleted the files from iCloud web or iCloud Drive:
Click the sidebar.
Click the Recently Deleted tab.
Select the files you want to recover.
Click Recover.
If you want to restore all files in the Recently Deleted section, instead of selecting all files one by one, click Recover All (via Apple).
If you deleted the file on a Mac:
Click the Quick Access menu button on the iCloud app on your Mac.
Click Data Recovery.
Click Restore files.
You can also find the file in Trash and drag it out. Or, right-click the removed file in Trash and select Put Back. Your file will be sent back to where it was originally (via Apple).
On your iPhone or iPad:
Open Files
Select Recently Deleted.
Touch and hold the file you want to retrieve.
Select Recover.
If you want to restore contacts, calendars, bookmarks, or reminders, 
Go to iCloud settings on the iCloud app or iCloud website.
Find the Restore settings under Advanced.
Pick your preferred data type.
Select the backup to restore.
There a is caveat, however. If you empty Trash or Recently Deleted, your file is permanently erased (via Apple). We recommend maintaining a physical backup on a USB stick or external hard drive to keep important data safe.