E-commerce startup Zilingo raises $226M to digitize Asia's fashion supply chain – TechCrunch
If you're looking for the next unicorn in Southeast Asia, Zilingo might just be it. The 3.5-year-old e-commerce company announced today that it has raised a Series D round worth $226 million to go after the opportunity to digitize Asia's fashion supply chain.
This new round takes Zilingo to $308 million from investors since its 2015 launch. The Series D is provided by existing investors Sequoia India, Singapore sovereign fund Temasek, Germany's Burda and Sofina, a European backer of Flipkart -owned fashion site Myntra. Joining the party for the first time is new investor EDBI, the corporate investment arm of Singapore's Economic Development Board.
Zilingo isn't commenting on a valuation for the round, but a source with knowledge of the deal told TechCrunch that it is 'a rounding error' away from $1 billion. We had heard in recent months that the startup was getting close to unicorn status, so that is likely to come sooner or later — particularly given that Zilingo has made it to Series D so rapidly.
Raising more than $300 million makes Zilingo one of Southeast Asia's highest-capitalized startups, but its meteoric growth in the last year has come from expansion from consumer e-commerce into business-to-business services.
CEO Ankiti Bose — formerly with Sequoia India and McKinsey — and CTO Dhruv Kapoor first built a service that capitalized on Southeast Asia's growing internet connectivity to bring small fashion vendors from the street markets of cities like Bangkok and Jakarta into the e-commerce fold. Zilingo still operates its consumer-facing online retail store, but its key move has been to go after b2b opportunities in the supply chain by digitizing its network to give retailers and brands gain access.
Revenue grew by 4X over the past year, with b2b responsible for 75 percent of that total, Bose told TechCrunch. She declined to provide raw figures but did say net income is in "the hundreds of millions" of U.S dollar. The company — which has over 400 staff — isn't profitable yet, but CEO Bose said the b2b segment gives it "a clear pathway" to break-even by helping offset expensive e-commerce battles.
The supply chain's 'outdated tech'
Moving into the supply chain after building distribution makes sense, but Zilingo has long had its eye on services.
That business-focused push started with a suite of basic products to help Zilingo sellers manage their e-commerce business. Those initially included inventory management and sales tracking, but they have since graduated to deeper services like financing, sourcing and procurement, and a 'style hunter' for identifying upcoming fashion trends. Zilingo also widened its target from the long tail of small vendors operating in Southeast Asia, to bigger merchants and brands and even to the fashion industry in Europe, North America and beyond that seeks access to Asia's producers, who are estimated to account for $1.4 trillion of the $3 billion global fashion manufacturing market.
Zilingo's goal today is to provide any seller with the features, insight and network that brands such as Zara have built for themselves through years of work.
In Southeast Asia, that means helping small merchants, SMEs and larger retailers to source items for sale online through the Zilingo store. But in Europe and the U.S, where it doesn't operate an outlet, Zilingo goes straight to the sellers themselves. That could mean retailers seeking wholesale opportunities from Asia or online influencers, such as Instagram personalities, keen to use their presence for e-commerce. Beyond just picking out items to sell, Zilingo wants to help them build their own private labels using its supply chain network.
That rest of the world plan has been on the cards since last year when Zilingo closed a $54 million Series C, but now the next stage of the journey is deeper integration with factories.
"If you think about these factories that make the products, the process isn't optimized over there," Bose said in an interview. "The guy or girl running factory likely has no technology, they don't even use Excel. So we're going to small and medium factories, increasing capacity utilization, helping to manage payroll, getting loans and other fintech services."
Kapoor, her co-founder, adds that the fashion supply chain is "is marred by outdated tech."
"It's imperative for us to build products that introduce machine learning and data science effectively to SMEs while also being easy to use, get adopted and scale quickly. We're re-wiring the entire supply chain with that lens so that we can add most value," he added in a statement.
AWS for the fashion supply chain
Bose said Zilingo's early efforts have boosted factory efficiency by some 60 percent and made it possible to develop links to retailers while also enabling factories to develop their own private label colletions, rather than simply churning out unbranded or non-descript products.
A large part of that work with factories is consultancy-based, and Zilingo has hired supply chain experts to help provide quality guidance and perspective alongside the software tools it offers, Bose said.
She compares it, in many ways, to how Amazon conceived AWS. After it built tech to fix its own problems internally, it commercialized the services for third parties. So Zilingo started out offering a consumer-facing e-commerce platform but it is making its sourcing networks open to anyone at a cost — almost like supply chain on an API.
That gives its business a two, if not three, sided focus which spans selling to consumers in Southeast Asia through Zilingo.com — which is present in Thailand, Singapore, Malaysia and Indonesia with the Philippines and Australia coming soon — reaching overseas retailers through Zilingo Asia Mall, and developing the b2b play.
In Southeast Asia, its home market, Zilingo doesn't pressure its merchants to sell on its platform exclusively — "we don't mind if they go to Instagram, Lazada, Tokopedia and Shopee," Bose said — but in the U.S. it doesn't have a go-to consumer outlet. It's possible that might change with the company considering potential partnerships, although it seems unlikely it will launch its own consumer play.
Zilingo was once destined to compete with the big players like Lazada, which is owned by Alibaba, Shopee, which is operated by NYSE-listed Sea, and Tokopedia, the $7 billion company that's part of SoftBank's Vision Fund, but its supply chain focus has shifted its position to that of enabler.
That's helped it avoid tricky times for specialist e-commerce services, which battle tough competition, pricing wars and challenging dynamics, and instead become one of Southeast Asia's highest-capitalized startups. The company's U.S. plan is ambitious, and it is taking longer than expected to get off the ground, but that makes it a startup that is worth keeping an eye on in 2019. It's also an example that the startup journey is not defined since, in some cases, the biggest opportunities aren't presented immediately.
Here's How To Lock Chrome's Incognito Mode Tabs With Your Fingerprint On iPhone
Millions of internet users worldwide use Chrome's Incognito mode to hide and protect their web activity. Google mentions on a support page that Incognito mode doesn't keep a record of the websites you've visited or the site data/cookies associated with the browsing session. Further, with locked Incognito Tabs on Chrome, iPhone users can be double sure about their privacy. Before the feature arrived, iPhone users had to manually close all the Incognito Tabs before handing over their phone to someone else. The locked Incognito Tabs feature locks all the Incognito Tabs in the current session behind a password or biometric entry.
Once you enable the locked Incognito Tabs feature on your iPhone, you wouldn't have to worry about anyone sneaking on your Incognito Tabs. The moment you minimize Google Chrome and open another app, or head to the home screen, Chrome will lock the Incognito Tabs. The next time you try to access the tabs, Chrome will ask you to enter your iPhone's passcode or a registered biometric match. On certain iPhone models like the iPhone 8 or the iPhone SE (2022), Chrome allows unlocking Incognito Tabs via Touch ID. On the other hand, iPhone models like the iPhone 13 and iPhone 14 ask users to access their Incognito Tabs through Face ID, as these models don't have a fingerprint scanner.
Nevertheless, whether you have an old or a new iPhone, the locked Incognito Tabs feature should come in handy. Let's discuss the steps involved in enabling the feature on an iPhone (or an iPad).
Here's how to lock Incognito Tabs on iPhone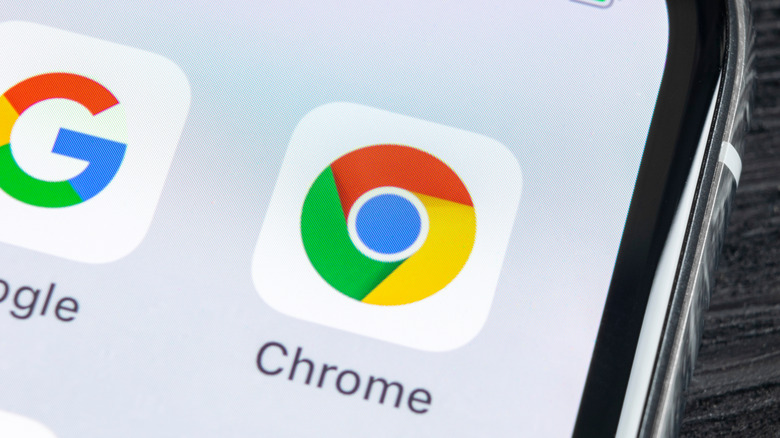 BigTunaOnline/Shutterstock
The locked Incognito Tabs feature is located in Chrome's Settings menu, and it is pretty easy to enable it. Follow the steps given below on your iPhone.
Open Google Chrome.
Press the three-dot icon at the bottom right corner of the screen. You should see a menu with a quick action list on top.
Swipe left on the list and hit the Settings option.
Now scroll down to locate and select the Privacy and security option.
In the Privacy and security menu, tap on the toggle beside Lock incognito tabs when you close Chrome. Tap Enable in the confirmation dialogue box, and you're ready.
Press Done to get out of the Settings menu and back to the browsing screen.
Upon following all the steps successfully, you should be able to activate the locked Incognito Tabs. Now, let's test the feature.
On Google Chrome's browsing window, hit the three-dot icon at the bottom right corner and tap New incognito tab.
In the incognito tab, conduct a Google search.
Once you see the search results, swipe up from the bottom edge of the display to open the Home Screen.
Now, reopen Google Chrome. You should see a button on your screen that reads Unlock with Touch ID or Unlock with Face ID.
Hit the unlock button and then place your registered finger on the Touch ID sensor, or place your iPhone in front of your face to confirm via Face ID.
Upon verifying it's you, Chrome grants access. 
Things to keep in mind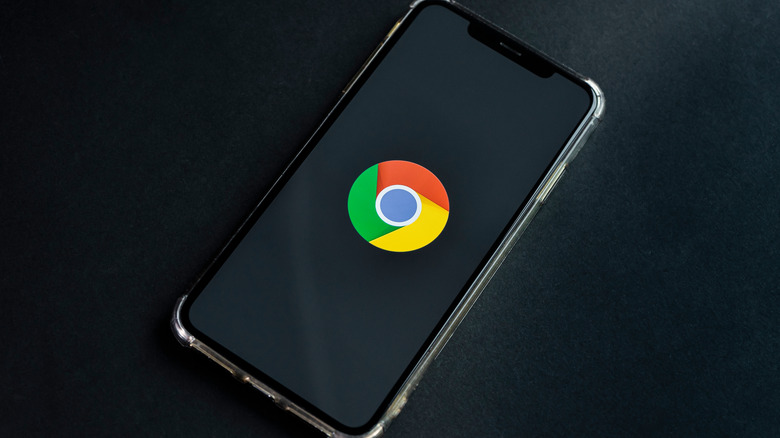 Gargantiopa/Shutterstock
Now that you know how to lock your Incognito Tabs on Chrome, here are a few things to keep in mind. You might think you'll lose your Incognito Tabs if you remove Google Chrome from the recent apps list, but that is not true. Even if you do that and reopen the app, you'll find your Incognito Tabs intact behind the biometric lock.
The second thing you should know is that Chrome only locks the Incognito Tabs upon minimizing the app, which means that your regular tabs are still vulnerable. In other words, even with the locked Incognito Tabs feature enabled, anyone can access the regular tabs on your iPhone. If the feature is unavailable on your iPhone, update the Google Chrome web browser from the App Store. Since it has been around for over a year, there's a good chance you won't need to update Chrome to get the feature.
Overall, the locked Incognito Tabs feature acts as an extra layer of security over anonymous browsing, as it's not just the digital threats you need to stay away from – you need to handle the bad actors in real life.
2024 BMW X5 And X6 Show Why Electrification Really Matters
Automakers are pushing, now more than ever, to electrify their lineups. Whether through plug-in hybrids that can go a few miles while running only on batteries, or by making fully electric versions of cars, several automakers are continuing to iterate on electric car design. 
Chevrolet made waves with the long-rumored Corvette E-Ray hybrid that's helped by both electric motors and a 6.2-liter V8. BMW electrified the 7-Series in the form of the 2023 BMW I7 xDrive60. That car benefitted from 544 horsepower and upwards of 310 miles of range. Cars are changing rapidly as electrification becomes more practical, and many automakers are planning on either hybridizing or electrifying their entire lineups within a few short years.
BMW just announced a host of changes to its X5 and X6 SUVs for the 2024 model year. Those changes bring a host of improvements to both models with more powerful engines, a more high-tech and contemporary interior, and a much-improved plug-in hybrid version of the X5.
Useful electrification
BMW
According to a press release from BMW, there will be two new engine choices for the X5 and X6: a twin-turbo 3-liter inline 6 that produces 375 horsepower on the X5 xDrive40i and X6 xDrive40i models, and a twin-turbo 4.4-liter V8 that throws down 523 horsepower on the X5 M60i xDrive and the X6 M60i xDrive. Both engines will benefit from a 48-volt mild hybrid system that boosts torque, and works with the eight-speed transmission to allow for a smoother driving experience. 
The real star of the new model range is the plug-in hybrid X5 xDrive50e. The revised drivetrain consists of a twin-turbo inline-6 and an electric motor that puts out 483 horsepower and 516 pound-feet of torque when working together. BMW says the plug-in X5 can accelerate from 0-60 miles per hour in 4.6 seconds, showing that a hybrid system is useful for more things than just efficiency. BMW also says that the plug-in can travel up to 40 miles on just battery power without using a drop of gas.
Modernized, capable interior
BMW
The inside of both the X5 and X6 will also feature a new 12.3-inch curved infotainment screen, and a 14.9-inch curved display for controls. Updates bring the infotainment in the X5 up to the latest BMW iDrive software, alongside a new heads-up display, Augmented View, and more modern features.
The displays will be paired with the updated BMW Operating System 8, which includes improvements to the optional driver support systems with the new Highway Assistant, and reverse assistance with optional parking assistance technology as well.
The base model X5 sDrive50i starts at $65,200, the X5 xDrive40i begins at $67,500, the plug in X5 xDrive50e has an MSRP of $72,500. The X6 xDrive40i starts at $73,900. Lastly, the M60i xDrive versions of the X5 and X6 start at $89,300 and $93,600 respectively. Prices do not reflect the $995 destination charge.
BMW says that production will begin in April of 2023 at BMW's Spartanburg, South Carolina plant.
How To Retrieve Deleted Files From iCloud
The file recovery process varies slightly between devices, but getting a deleted file back usually takes just a few steps. After you have restored a file, folder, or album, you can find it in the same destination where it was before deletion. 
If you deleted the files from iCloud web or iCloud Drive:
Click the sidebar.
Click the Recently Deleted tab.
Select the files you want to recover.
Click Recover.
If you want to restore all files in the Recently Deleted section, instead of selecting all files one by one, click Recover All (via Apple).
If you deleted the file on a Mac:
Click the Quick Access menu button on the iCloud app on your Mac.
Click Data Recovery.
Click Restore files.
You can also find the file in Trash and drag it out. Or, right-click the removed file in Trash and select Put Back. Your file will be sent back to where it was originally (via Apple).
On your iPhone or iPad:
Open Files
Select Recently Deleted.
Touch and hold the file you want to retrieve.
Select Recover.
If you want to restore contacts, calendars, bookmarks, or reminders, 
Go to iCloud settings on the iCloud app or iCloud website.
Find the Restore settings under Advanced.
Pick your preferred data type.
Select the backup to restore.
There a is caveat, however. If you empty Trash or Recently Deleted, your file is permanently erased (via Apple). We recommend maintaining a physical backup on a USB stick or external hard drive to keep important data safe.