Exclusive: Internet pioneer Kleinrock returns to fix what ails the internet
Fifty-eight years ago, Leonard Kleinrock proposed a novel way to examine the patterns of activity in large networks of communications, such as the telephone network. That mathematical and statistical analysis, his Ph.D. thesis for MIT, formed the basis of an approach to handling packets of data that would lead Kleinrock to form, along with fellow scientists, the internet, which went live this week in 1969. 
Fifty years after that first internet message, Kleinrock is back with a new plan to perhaps save the internet from itself.
It's a kind of second coming of the internet. 
"As you well know, the internet started out a democratic, free, shared, ethical, open network, and we have lost a lot of that," said Kleinrock in an interview with ZDNet. "My hope is that this technology will help move us back in that direction." 
Kleinrock spoke by phone with ZDNet from Los Angeles, where he was attending the unveiling of a new research facility at UCLA, where Kleinrock teaches, and where he sent that first internet message 50 years ago. The "Connection Lab," as it's called, will examine connectivity in all forms, he said, from traditional computer networking to IoT to embedded forms of computing that Kleinrock many years ago hypothesized would become the "invisible internet."
Despite being a futurist, at the moment his thoughts are very much bound up with and troubled by, how the internet has departed from its idealistic early profile. The global computer network has come to be dominated not only by bad actors, those who spread "fake news," or who harass on social media but also by organizations like Facebook that have little incentive to be up-front in how they treat individuals. 
"Some internet giants don't honor your individual privacy concerns," he said. "When is the last time Facebook or Amazon asked what privacy policy you wanted applied to you individually — just you, not you and everyone in the world?"
Instead, said Kleinrock, Facebook and other companies "present you with this 50-page legal document you can say yes or no to."
Also: They are going to leave Facebook: A chat with social networkers Revolution Populi
To Kleinrock, this is the unfinished business of building the internet. Asked if he foresaw the dark potential of the internet when he was first working on queuing theory in the early 1960s, he replied, "No way, no way, I wasn't thinking this way at all." 
Kleinrock on Tuesday wrote an opinion piece in the LA Times outlining his concerns. "How did it go so wrong?" he asks of the system he helped create. But the details of his work, two years in the making, are only being revealed today by ZDNet.
Kleinrock has joined with a group of investors and technologists to form a company called Sunday Group. The company's project is called "Mobby," a system for allowing people to establish their reputation on the internet in a decentralized fashion. It is a bit like what would happen if Yelp reviews or Amazon product ratings existed outside those sites, as the property of no one but rather as a system that authentically validated individuals according to how they behave. 
In broad terms, the hope is to create a new virtual currency backed by a new blockchain system that will verify people's reputation, as a way to reward good behavior and combat bad behavior — a kind of internet-wide infrastructure of good and bad repute. "The quality of the people who are speaking on the Net, blogging or tweeting or whatever, has in some sense a reputation associated with it," observed Kleinrock. "I hope this will be a way to separate the crazies from the more thoughtful people."
At the heart of what Kleinrock is building, the technology to which he refers is a blockchain that is based on what's known as "proof of reputation." In an initial white paper made public Wednesday, Kleinrock lays out the theory and some initial mathematical descriptions for the Mobby blockchain. 
In brief, a "randomness beacon" injected into the system would regularly pick members of the internet community in a lottery to form temporary committees, with such committees being created and dissolved constantly. Membership would be based on the acquired reputation of the committee members, but not entirely: The math of the lottery also allows for those with less standing to be picked, to assure committees are not dominated by only those with the highest reputation. 
The committee members validate transactions of the blockchain. It's an alternative to the traditional "proof of work," or "PoW," of the Bitcoin blockchain, which requires fairly extensive calculations to be computed, which in turn slows processing of Bitcoin transactions. 
By using Kleinrock's proof of reputation instead of PoW, transactions on the Mobby blockchain, he expects, will be nearly instantaneous, making the system more appropriate as a system of transactions than is Bitcoin or other systems such as Ether. 
"My view is that it's a multidimensional reputation system," says Kleinrock, one in which all the things a user does, whether being a seller of stuff on eBay or a musician, are merged into a weighted network of a person's collective reputation, which increases or decreases over time based on behavior.  
"It's somewhat the way PageRank worked with Google," he said, referring to the algorithm the search giant used to transform ranking of Web sites.  "Ratings can affect your rep among your group, and for some things you do, such as curating music playlists, you may get rewarded with virtual currency," he muses. 
Many details of Mobby have yet to be decided by Sunday Group. A distribution of $210 million worth of Mobby currency is being organized by the company to fund its efforts, and the expectation is that Mobby currency will start trading on an exchange by January of 2020.
Jump-starting such a system is the obvious chicken and egg problem, and some of that Kleinrock is leaving to his colleagues at Sunday Group to figure out. 
But Kleinrock is aware of the very profound philosophical issues that no infrastructure can solve by itself. 
"It's the bubble phenomenon, and fake news, and all of that, and just how you reconcile that is not clear in my mind," said Kleinrock. "You have to get outside your bubble, and see how other people evaluate it," he said. 
"Look at China, with their social order system," he said. "Any reputation system can potentially be far less than democratic, and dangerously so, if it's a closed system that uses this notion of reputation, and I don't have an answer to that."
Here's How Long A Tesla Model Y Battery Will Actually Last
Many of us have found ourselves at the side of the road waiting for someone to arrive with a gas can to fill our empty tank. Pushing your gasoline-powered engine too far when the gauge is reading "E" will do that. And like pushing your luck with these types of vehicles, you'll find yourself in a similar situation with an all-electric model if you aren't planning your journey with care, requiring roadside assistance or an emergency charging solution.
The Tesla Model Y is equipped with a long-range battery that will last you a full day on the road in the vast majority of situations. If you are driving the Performance Model Y, this vehicle will carry you an average of 303 miles on a full charge, according to Tesla. Should you be considering the Long-Range Model Y, you can expect the battery to last longer, getting 330 miles on the same charge. 
By charging the EV overnight when you are finished, you'll have a fully charged battery to begin your day, assuming you have a home charger. And if you are running low on juice, you'll find over 35,000 Tesla Supercharging Stations around the world, around 1,400 of which are in the United States, according to the latest data from Scrape Hero. Plug your Model Y into one of these spots and Tesla says on its website that you can expect to get around 200 miles of range after 15 minutes of charging.
The Most Luxurious Features Of Leonardo DiCaprio's $1.5 Million Motorhome
The features inside DiCaprio's trailer are over-the-top, to say the least. It is 53-feet-long with four slide-out sections that can extend from 400 to 700 square feet at the touch of a button (via The Sun). According to Rovsek, it is the largest and most luxurious motorhome in the entire fleet.
It comes equipped with two fireplaces (in case one was not enough), and state-of-the-art technology including seven TV screens throughout the entire trailer. The motor home features mirror-covered ceilings and heated marble floors in the bathrooms, living room, and kitchen. It also features a wine bar and heated marble floors, according to Bloomberg Quicktake.
Surprisingly, the crown jewel in this upscale trailer is not the lounge area or the master bedroom. Instead, it is a custom-designed £40,000 walk-in shower. The shower was reportedly made with recycled glass and took craftsmen two weeks to install (via The Sun). 
Here's The Easiest Way To Scan Your Android Phone For Viruses
Maor_Winetrob/Shutterstock
There's a common misconception about smartphones, and it's a dangerous one: many people believe they don't need to worry about viruses, spyware, and malware when they're using a phone. If only that were true! Unfortunately, there are tons of smartphone viruses out there, and it's more important than ever to try to protect yourself. After all, it's not uncommon for our phones to hold access to some of our most private data, including passwords, messages, and even bank accounts. If you want to stay safe, it's a good idea to scan your phone with an antivirus app.
You might often hear about various computer hacks and exploits, but when it comes to smartphones, things are usually pretty quiet — but that's not due to a lack of malicious software. According to AVTest, the number of Android malware is steadily growing. In 2021, the company registered 3.28 million instances of Android-specific malware, and there might very well be many more in reality. Even if you're normally careful, it's important to go the extra mile if you want to secure your phone alongside some of your most important data.
Remember that even phones that come with various protective measures from the get-go, such as the Samsung Galaxy handsets, can become compromised. If you already have an antivirus app on your phone, make sure to use it regularly. However, if you don't or you do but you're looking to switch to something else, read on to see some of the options available.
Popular antivirus apps for Android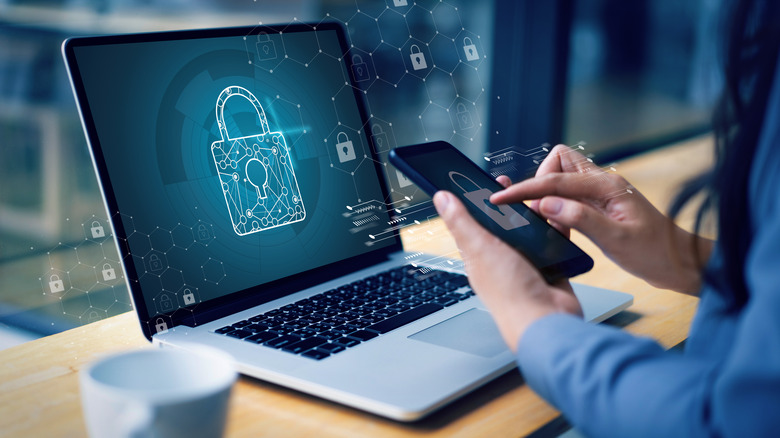 one photo/Shutterstock
Much like there are plenty of viruses that affect Android phones, there are also lots of antivirus apps that might seem great at first glance. However, upon closer inspection, some of them are riddled with ads and don't actually do much to help you stay protected. When you search for the right app to suit your needs, some of them will be free and some will require an upfront payment or a monthly subscription. Here are some of the most popular options (based on download numbers and ratings) for you to explore.
BitDefender for Android: You can use the free version of this app that will passively protect your phone as well as allow scanning for viruses, but you can also pay to use the full-fledged version that expands the security and adds VPN access.
Avast One Essential: Avast is a well-known antivirus company in the PC space, but it also has a popular Android app. You can use the app for free to receive virus protection and a small amount of VPN bandwidth, but there's a premium option too — and, unfortunately, the app will constantly remind you of that fact.
Norton 360: This is yet another PC giant that made its way to Android. Norton doesn't offer a free version of its app, but if you're willing to pay for it, you will get a number of features, including an ad blocker and a Wi-Fi analysis tool. The app costs $14.99 per year for the first year and then goes up to $30 per year.
Kaspersky for Android: This is a solid antivirus option even if you use the free version, but unfortunately, you only get real-time protection if you pay $15 per year for the premium version.
Pick the app that best suits your needs, download it from the Google Play Store, and install it onto your Android smartphone or tablet.
How to use antivirus software on Android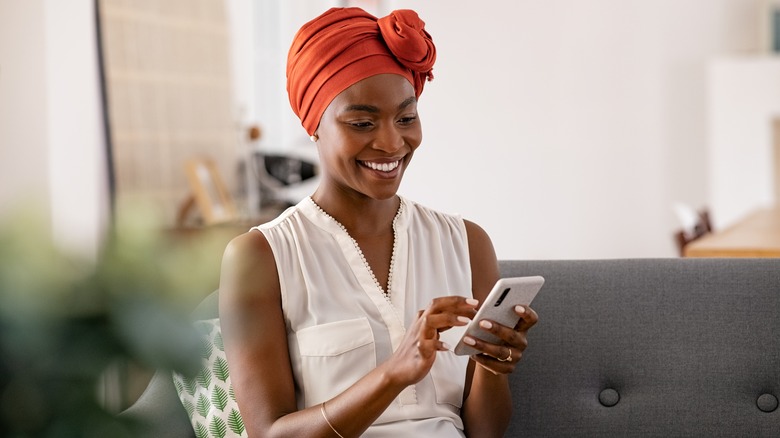 Rido/Shutterstock
Each of the apps mentioned above should provide you with enough protection to not have to worry about Android viruses too much. Whether you chose a paid or a free version, you will have access to a tool that will scan your phone for malicious software. You should do this periodically. Doing so every couple of weeks is a safe approach, especially if you use your phone often. Make it a habit to always run a scan if you accidentally find yourself clicking a link that doesn't seem all too trustworthy, too. We'll now give you a quick rundown of what to do with your new antivirus app.
Pick your app and install it through the Google Play Store. 
You will most likely have to register an account to use the app.
If you are picking a paid option, pay for your chosen service.
Each of the apps will offer to scan your phone as the first step after set-up. This will check all of the apps on your phone and your storage for viruses.
Once the scan is concluded, you can review the results. If any viruses were found, you'll be told where they were. Remove all of them through the app.
Go into the app settings and look for options to set up regular scanning. Depending on the app, you may also be offered real-time protection, which will run in the background as you use your phone.
Make sure to repeat these scans every so often. After you've had the chance to familiarize yourself with the free version of the antivirus product, you might want to consider upgrading. In the case of BitDefender and Avast, it's most likely going to be worth it — especially if you want to regularly use a VPN and don't already subscribe to one.