Here's The Easiest Way To Scan Your Android Phone For Viruses
Maor_Winetrob/Shutterstock
There's a common misconception about smartphones, and it's a dangerous one: many people believe they don't need to worry about viruses, spyware, and malware when they're using a phone. If only that were true! Unfortunately, there are tons of smartphone viruses out there, and it's more important than ever to try to protect yourself. After all, it's not uncommon for our phones to hold access to some of our most private data, including passwords, messages, and even bank accounts. If you want to stay safe, it's a good idea to scan your phone with an antivirus app.
You might often hear about various computer hacks and exploits, but when it comes to smartphones, things are usually pretty quiet — but that's not due to a lack of malicious software. According to AVTest, the number of Android malware is steadily growing. In 2021, the company registered 3.28 million instances of Android-specific malware, and there might very well be many more in reality. Even if you're normally careful, it's important to go the extra mile if you want to secure your phone alongside some of your most important data.
Remember that even phones that come with various protective measures from the get-go, such as the Samsung Galaxy handsets, can become compromised. If you already have an antivirus app on your phone, make sure to use it regularly. However, if you don't or you do but you're looking to switch to something else, read on to see some of the options available.
Popular antivirus apps for Android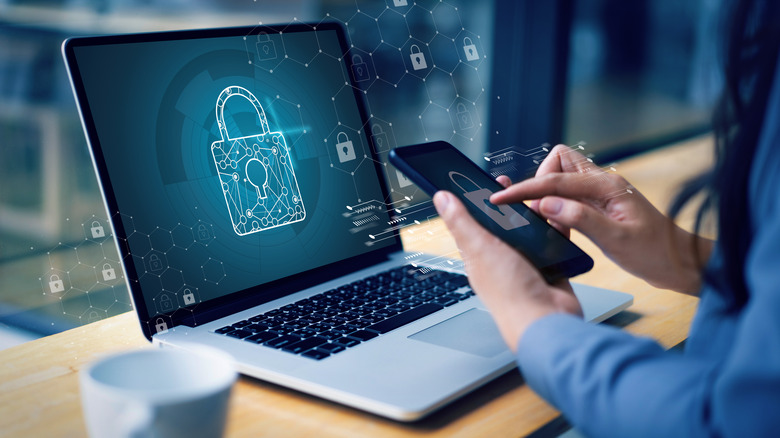 one photo/Shutterstock
Much like there are plenty of viruses that affect Android phones, there are also lots of antivirus apps that might seem great at first glance. However, upon closer inspection, some of them are riddled with ads and don't actually do much to help you stay protected. When you search for the right app to suit your needs, some of them will be free and some will require an upfront payment or a monthly subscription. Here are some of the most popular options (based on download numbers and ratings) for you to explore.
BitDefender for Android: You can use the free version of this app that will passively protect your phone as well as allow scanning for viruses, but you can also pay to use the full-fledged version that expands the security and adds VPN access.
Avast One Essential: Avast is a well-known antivirus company in the PC space, but it also has a popular Android app. You can use the app for free to receive virus protection and a small amount of VPN bandwidth, but there's a premium option too — and, unfortunately, the app will constantly remind you of that fact.
Norton 360: This is yet another PC giant that made its way to Android. Norton doesn't offer a free version of its app, but if you're willing to pay for it, you will get a number of features, including an ad blocker and a Wi-Fi analysis tool. The app costs $14.99 per year for the first year and then goes up to $30 per year.
Kaspersky for Android: This is a solid antivirus option even if you use the free version, but unfortunately, you only get real-time protection if you pay $15 per year for the premium version.
Pick the app that best suits your needs, download it from the Google Play Store, and install it onto your Android smartphone or tablet.
How to use antivirus software on Android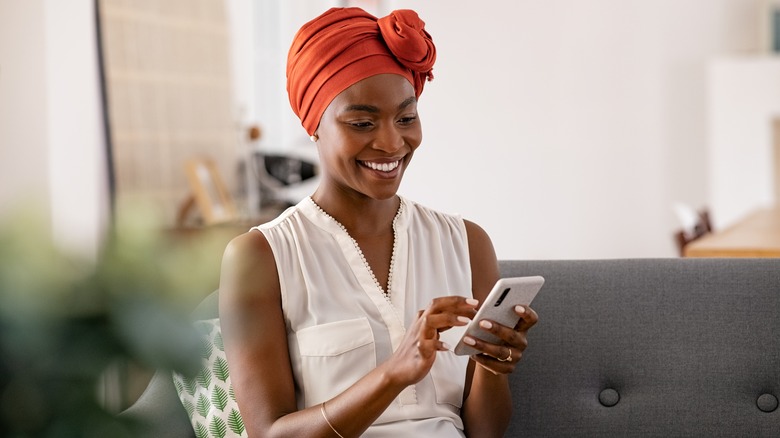 Rido/Shutterstock
Each of the apps mentioned above should provide you with enough protection to not have to worry about Android viruses too much. Whether you chose a paid or a free version, you will have access to a tool that will scan your phone for malicious software. You should do this periodically. Doing so every couple of weeks is a safe approach, especially if you use your phone often. Make it a habit to always run a scan if you accidentally find yourself clicking a link that doesn't seem all too trustworthy, too. We'll now give you a quick rundown of what to do with your new antivirus app.
Pick your app and install it through the Google Play Store. 
You will most likely have to register an account to use the app.
If you are picking a paid option, pay for your chosen service.
Each of the apps will offer to scan your phone as the first step after set-up. This will check all of the apps on your phone and your storage for viruses.
Once the scan is concluded, you can review the results. If any viruses were found, you'll be told where they were. Remove all of them through the app.
Go into the app settings and look for options to set up regular scanning. Depending on the app, you may also be offered real-time protection, which will run in the background as you use your phone.
Make sure to repeat these scans every so often. After you've had the chance to familiarize yourself with the free version of the antivirus product, you might want to consider upgrading. In the case of BitDefender and Avast, it's most likely going to be worth it — especially if you want to regularly use a VPN and don't already subscribe to one.
These Are 3 Of The Worst EVs Of All Time
If you walk into any Chevrolet dealership today, you are more than likely to see a few Chevy Sparks on the lot. The current model is equipped with a 1.4L four-cylinder engine that puts out a grand total of 98 horsepower. It's Chevy's cheapest car at just under $14,000 and offers features like CarPlay standard. Until recently, some new Sparks could be configured with manual crank windows — truly innovative.
Back in 2013, General Motors made an all-electric version of the Spark to comply with California's (new at the time) emissions regulations (via Green Car Reports). The result was a less than valiant effort. Its motors were assembled just outside of Baltimore, Maryland, and shipped all the way to GM's operations in South Korea for production.
For specs, the Spark wasn't weak at 140 horsepower and over 300 foot-pounds of torque, but it only had a realistic range of about 80 miles, and it took more than seven hours to charge without a fast charger. An Edmunds review of the 2016 model noted that charging from a 110-volt outlet took over 20 hours for a full battery. To make matters worse, Spark EVs in the United States were only offered in Oregon, California and Maryland, according to Edmunds. 
Which Is The Better Electric Car?
If you prioritize acceleration, battery range, and self-driving technology, the Tesla Model 3 is the clear winner. However, the Polestar 2 comes on top if you consider comfort and interior quality. Besides that, the Polestar 2 is a hatchback with hints of a premium Volvo and the Tesla Model 3 is a sedan similar to the Model S — but smaller.
As for the price, the 2023 Polestar 2 starts at $48,800. If you're buying the 2022 model, it will cost you about $2,500 less than the 2023 model. But if you want the 2023 Long Range Dual Motor trim, it will cost you about $51,900. The biggest improvement of the 2023 Polestar 2 over the 2022 model year is the 11 miles of extra range on the Long Range Dual Motor variant.
The Tesla Model 3 Rear-Wheel Drive starts at $46,990, while the Long-Range trim is sold at $54,490. The Tesla Model 3 Performance is the most expensive trim at $61,990. But with the U.S. Inflation Reduction Act, the Tesla Model 3 will become eligible for the $7,500 tax credit starting January 1, 2023 — although only the trims that are sold for less than $55,000 will be considered.
Unless Volvo builds the Polestar 2 in the U.S., it won't qualify for the new tax incentive under the Inflation Reduction Act. However, we know Volvo is building an electric SUV in the U.S., and it will be known as the Polestar 3. 
Google Stadia Shutdown Took Employees, Game Devs By Surprise
Video game designer and founding member of multiple game studios, Rebecca Heineman shared on Twitter that her company was lined up for a Stadia game release on the first day of November, but instead got heartbreak. Indie developer Simon Roth mentioned that neither did he receive any warning in advance from Google, nor did the Stadia division reach out to him via email or phone well after the news broke out.
That's really bad news and also a big surprise for us. Now we wasted a lot of time porting and developing for Stadia, money we never get back (for EW1, not sure what happens with Tri6). https://t.co/Oabv2hHlqV

— Clockwork Origins (@CWO_Games) September 29, 2022
But it was not just indie developers that Google kept in the dark. Even heavyweights like Bungie, which brought users "Halo" and "Destiny" games, were apparently unaware of the Stadia bombshell dropping out of nowhere. Plaion, which owns multiple publishing units and ten game studios, also pointed out that it wasn't informed in advance. Publishers Goldfire Studios and No More Robots told Kotaku that they each had a game coming out on Stadia next year.
I know everybody is having a great time laughing at this but stadia had the best dev revenue of any streaming service, and launching Hyper Gunsport there was going to recoup our dev costs. We were launching there in November and are now in a much tougher situation. https://t.co/ZM8MfKrc5A

— brandon sheffield (@necrosofty) September 29, 2022
Pixel Games shared that it finalized the deal to bring no less than three games over to Google's cloud gaming service just a day earlier. Google, on the other hand, is reportedly working with the affected studios with schemes like reimbursing the costs of development and porting existing games to its platform. According to an Axios report, Stadia reps are reaching out to publishing and development partners with reimbursement deals.