Huawei Australia sees large profit and revenue growth while skirting ban impact
Huawei Australia experienced an 18% spike in revenue over the course of 2018, as the Australian arm of the Chinese giant collected receipts of AU$735 million compared to AU$623 million in the year prior.
Broken down by revenue type, the company saw revenue growth across the board: It increased goods sales by 19% to AU$417 million, revenue from services jumped 22% to AU$154 million, with construction payments growing by 12% to AU$164 million.
With the cost of sales increasing by 21% to AU$597 million, Huawei Australia had pre-tax profit of AU$38.7 million against AU$32 million in 2017. For the year to December 31, 2018, the company paid AU$9.3 million in income tax, whereas it paid AU$16.3 million for 2017, which led to the company posting an 89% jump in post-tax profit to AU$29.3 million.
The amount spent by the company on wages in 2018 fell from AU$49.4 million to AU$47.5 million, as it reported having 343 employees. For research and development, expenditure was steady at AU$4.7 million, however the amount of tax incentives gained dropped from AU$0.51 million to AU$0.13 million.
During 2018, the Chinese giant found itself banned from 5G rollouts in Australia, which resulted in TPG announcing it would cease the building out of its mobile network.
Despite this, the company optimistically claimed the ban "may reduce the scale and growth in the carrier network business".
"The company will continue to pursue its objective of increasing its profitability and market share during the next financial year, with a particular focus on the enterprise and consumer business," Huawei Australia said in its filing to ASIC.
Huawei is having better luck in the United Kingdom than Australia, where it has been allowed to deploy 5G equipment despite a report pointing out significant flaws in its equipment.
Last week, the Chinese parent company announced first quarter earnings that saw revenue jump by 39% to 180 billion yuan as it sold 59 million smartphones.
The company has previously said it wanted to be the biggest smartphone brand overall by 2020.
Huawei Australia made its filing with ASIC with an air of defiance, stating it does not believe it is a reporting entity.
"The company is not publicly accountable," the filing said.
Related Coverage
Huawei: UK will have access to best technology
While Huawei could not confirm the reports that the British government will be allowing it to take part in 5G, the Chinese tech giant says that if they are true, the UK 'will have access to the fastest and most reliable networks'.
Huawei Cloud ramps up AI efforts with Singapore lab, partners
Chinese tech giant has opened a cloud and artificial intelligence innovation lab in Singapore with resources to help universities and enterprises drive research in these technologies as well as inked agreements with various companies to jointly develop such applications in Asia-Pacific.
Huawei 1Q revenue climbs 39 percent amidst US pressure
Chinese networking vendor has reported a 39 percent increase in revenue to 197.7 billion yuan (US$29.5 billion) for the first quarter of 2019, when it shipped 59 million smartphones and inked 40 commercial contracts for 5G globally.
New Honor phone to be unveiled on May 21 in London
Honor, Huawei's smartphone sub-brand, will showcase a new offering in London on May 21.
Huawei's surveillance system in Serbia threatens citizens' rights, watchdog warns
The Chinese giant's Safe City Solution for Belgrade is raising questions about its use of personal data.
UK on Huawei: New engineering flaws found, old vulnerabilities haven't been fixed yet
Board that oversees Huawei security in the UK offers only 'limited assurance' that risk to national security can be mitigated.
Samsung Galaxy Fold v. Huawei Mate X: What's different? (TechRepublic)
Samsung and Huawei are the first big tech companies to jump on the folding smartphone bandwagon, so what's different between the Galaxy Fold and the Mate X?
Can You Use An Xbox Controller On Nintendo Switch?
It's worth noting that some of the Xbox controller's functions do not work on Switch, nor are many of the Switch's unique features supported by the controller. Specifically, it lacks support for rumble, NFC, analog triggers, trigger vibration, the audio jack, IR input, and the LED doesn't correlate to any Switch functions, including player indicators. You also can't wake the Switch up from sleep using the controller.
You'll also want to keep in mind that Xbox controllers swap the positions of several face buttons in relation to Switch controllers, so the labels won't match up perfectly. For instance, the positioning of the "A" and "B" buttons on the Xbox controller correspond to "B" and "A" on the Switch controller, respectively. The same is true for the "X" and "Y" buttons. Otherwise, the Switch's controller scheme perfectly matches the Xbox controller's available buttons and triggers.
None of this is the fault of the 8Bitdo adapter. These limitations are simply the byproduct of marrying two devices that were not designed to work together. If that's a dealbreaker, then your best bet is to buy an officially licensed Nintendo Switch controller. The best alternative for Xbox fans is Nintendo's official Pro Controller.
The Incredible Capabilities Of The US Air Force's New Supersonic Training Jet
According to the USAF, Boeing will produce over 350 Red Hawk aircraft as part of a contract worth more than $9.2 billion. There's also speculation that the Red Hawk's design could be easily modified to incorporate radar systems, electronic warfare equipment, or under-wing weapon stations, making it an attractive purchase for other U.S. military branches or even international allies.
The training jet features a glass touchscreen cockpit that provides a more modern flair — as well as a more practical piloting experience, one would hope — and tiered seating, so both the instructor and the trainee have sufficient ability to pilot the aircraft without visual obstructions.
Production models of the T-7A Red Hawk sport a red tail section, a reference to the red-painted tails of the aircraft flown during World War II by the 99th Fighter Squadron, better known as the "Tuskegee Airmen." One of the planes they flew was the Curtiss P-40 Warhawk, which influenced the design of the T-7A Red Hawk.
In the same tradition of equality that the Red Hawk's name and design aspire to embody, the training jet is built to safely accommodate a wider variety of pilot body types and sizes than previous jets, allowing for a larger recruiting pool including more women than has historically been the case. Let's hope similar updates make their way to the USAF's other next-gen aircraft.
How To Transfer Digital Games To A New Nintendo Switch
Let's say you've just gotten ahold of a brand-new Nintendo Switch console, but this isn't your first. Maybe it's an upgrade to the fancy OLED model, perhaps you've been sharing with family, and this one is just for you. Whatever the reason, if you already have or have had a Switch, and now you have a new one, you don't have to start building up an entirely new games library (or even start your games over).
Thankfully there are ways to transfer your digital games from one Switch to another, along with your user accounts and saves. While the process is a bit different depending on whether you have access to that original Switch console, it's still doable either way. Just know that it might take a little more effort without the console where all of your info was previously saved. And you'll likely lose any game progress that wasn't backed up using Cloud saves.
If you still have the original Switch console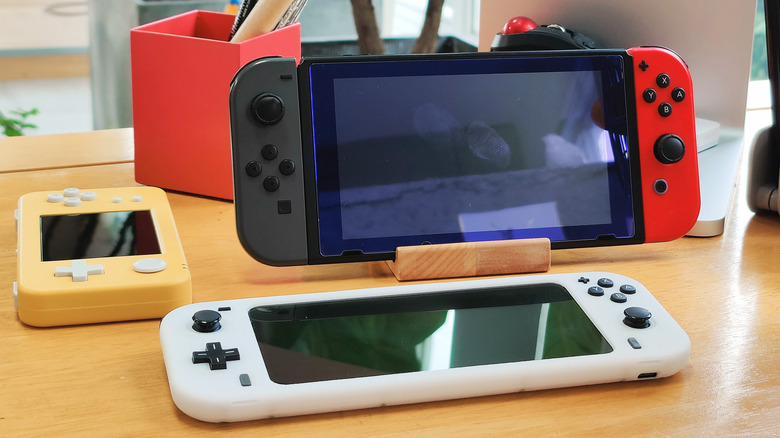 Jack Skeens/Shutterstock
Assuming you do have both the previous Switch and the new one you want to transfer everything over to, here's what you do:
From the original Switch, open System Settings (the icon looks like a gear) on the Home menu.
Select Users, then select Transfer Your User Data.
Select Next twice, and then choose Source Console to mark this Switch as the transferrer.
Select Continue, then grab the new Switch console to which you want to move everything.
From the new Switch, open System Settings and select Users, then Transfer Your User Data.
Select Next, Next again, then choose Target Console to designate this Switch as the transferee.
Select Sign-in, then sign into your Nintendo Account using either the associated email or sign-in ID.
Select Sign-in, then Next, then go back to the original Switch.
Wait for the systems to find each other, then select Transfer.
Wait until the transfer is complete (this may take several minutes), then select End to finish.
If you no longer have the original Switch console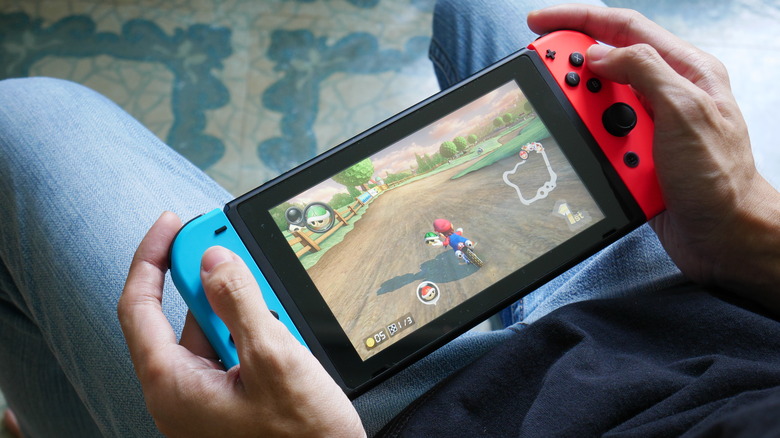 Wachiwit/Shutterstock
Things are a little more time-consuming without access to the original Switch console on which your account was created or primarily used. Also, note that any saved data that hasn't been backed up via Cloud storage will not be able to carry over.
First, ensure the original Switch console has been deactivated (via Nintendo), which can be done remotely through your Nintendo Account via the official website.
Next, if you haven't done it yet, link your Nintendo Account (via Nintendo) to the new Switch console.
Log into the eShop on the Switch using your Nintendo Account, which will designate it as the primary console.
You can download cloud backups of your game saves — if you have a Switch Online subscription and have been using the feature.
You can also access your account's download history through the eShop and begin installing any of the digital games you've previously purchased. This will, of course, take longer when dealing with more or larger games and will require an adequate amount of storage space.