NBN moves into Layer 3 with Sky Muster Plus launch
The company responsible for deploying the National Broadband Network (NBN) across Australia has taken the wraps off its Sky Muster Plus plan, first flagged in November last year.
The service will see NBN offer a Layer 3 service, that will enable it to exempt certain traffic from its data quota on satellite services. NBN warned customers that the use of VPNs and moving data across non-HTTP/HTTPS ports will mean that data will be counted towards the quota.
Sky Muster Plus offers a standard 25/5Mbps service, with the company saying that depending on network capacity, users may be bursted to higher speeds.
"Insights from a Sky Muster Plus trial, which ran from 7 June until 8 August 2019, revealed four out of five existing Sky Muster customers reported an improvement in their online experience during the trial, with many reporting the unmetered data was particularly helpful when it came to managing their overall data usage," the company said.
NBN CEO Stephen Rue said around one-third of the data used in July was unmetered.
"This not only frees up more data for metered activities such as video streaming or accessing cloud storage but will also provide comfort to customers who can continue to access essential internet services such as online banking any time," Rue said.
"We know this is particularly important for small businesses, which are critical to local communities."
During evening busy hours, 7pm to 11pm, NBN will shape operating system updates to 265kbps, and said application, games console updates, and "non-system software updates" would count towards the data quota. The company added that if a user was downloading OS updates for more than 20 devices, it would be deemed unfair usage.
NBN also said on Monday it is seeing an average of 100 calls a day to its call centre on the subject of suspected scams.
"Our own contact centre has received more than 9,500 enquiries over the past quarter alone from the public, nationally, about suspected scams," NBN chief security officer Darren Kane said.
"As we close in on the end of the network build, scammers are increasing their efforts to take advantage of the NBN brand as a way to steal people's personal or financial details and using increasingly sophisticated ways to convince people of their legitimacy."
Kane pointed out NBN is a wholesaler, and does not contact potential users to sell services.
In June, the ACCC said more than AU$110,000 each month was lost to NBN scams.
Compared to the average monthly losses of AU$38,500 in 2018, this is a near 300% increase.
"People aged over 65 are particularly vulnerable, making the most reports and losing more than AU$330,000 this year. That's more than 60% of the current losses," ACCC Acting Chair Delia Rickard said at the time.
Related Coverage
Here's How Long A Tesla Model Y Battery Will Actually Last
Many of us have found ourselves at the side of the road waiting for someone to arrive with a gas can to fill our empty tank. Pushing your gasoline-powered engine too far when the gauge is reading "E" will do that. And like pushing your luck with these types of vehicles, you'll find yourself in a similar situation with an all-electric model if you aren't planning your journey with care, requiring roadside assistance or an emergency charging solution.
The Tesla Model Y is equipped with a long-range battery that will last you a full day on the road in the vast majority of situations. If you are driving the Performance Model Y, this vehicle will carry you an average of 303 miles on a full charge, according to Tesla. Should you be considering the Long-Range Model Y, you can expect the battery to last longer, getting 330 miles on the same charge. 
By charging the EV overnight when you are finished, you'll have a fully charged battery to begin your day, assuming you have a home charger. And if you are running low on juice, you'll find over 35,000 Tesla Supercharging Stations around the world, around 1,400 of which are in the United States, according to the latest data from Scrape Hero. Plug your Model Y into one of these spots and Tesla says on its website that you can expect to get around 200 miles of range after 15 minutes of charging.
The Most Luxurious Features Of Leonardo DiCaprio's $1.5 Million Motorhome
The features inside DiCaprio's trailer are over-the-top, to say the least. It is 53-feet-long with four slide-out sections that can extend from 400 to 700 square feet at the touch of a button (via The Sun). According to Rovsek, it is the largest and most luxurious motorhome in the entire fleet.
It comes equipped with two fireplaces (in case one was not enough), and state-of-the-art technology including seven TV screens throughout the entire trailer. The motor home features mirror-covered ceilings and heated marble floors in the bathrooms, living room, and kitchen. It also features a wine bar and heated marble floors, according to Bloomberg Quicktake.
Surprisingly, the crown jewel in this upscale trailer is not the lounge area or the master bedroom. Instead, it is a custom-designed £40,000 walk-in shower. The shower was reportedly made with recycled glass and took craftsmen two weeks to install (via The Sun). 
Here's The Easiest Way To Scan Your Android Phone For Viruses
Maor_Winetrob/Shutterstock
There's a common misconception about smartphones, and it's a dangerous one: many people believe they don't need to worry about viruses, spyware, and malware when they're using a phone. If only that were true! Unfortunately, there are tons of smartphone viruses out there, and it's more important than ever to try to protect yourself. After all, it's not uncommon for our phones to hold access to some of our most private data, including passwords, messages, and even bank accounts. If you want to stay safe, it's a good idea to scan your phone with an antivirus app.
You might often hear about various computer hacks and exploits, but when it comes to smartphones, things are usually pretty quiet — but that's not due to a lack of malicious software. According to AVTest, the number of Android malware is steadily growing. In 2021, the company registered 3.28 million instances of Android-specific malware, and there might very well be many more in reality. Even if you're normally careful, it's important to go the extra mile if you want to secure your phone alongside some of your most important data.
Remember that even phones that come with various protective measures from the get-go, such as the Samsung Galaxy handsets, can become compromised. If you already have an antivirus app on your phone, make sure to use it regularly. However, if you don't or you do but you're looking to switch to something else, read on to see some of the options available.
Popular antivirus apps for Android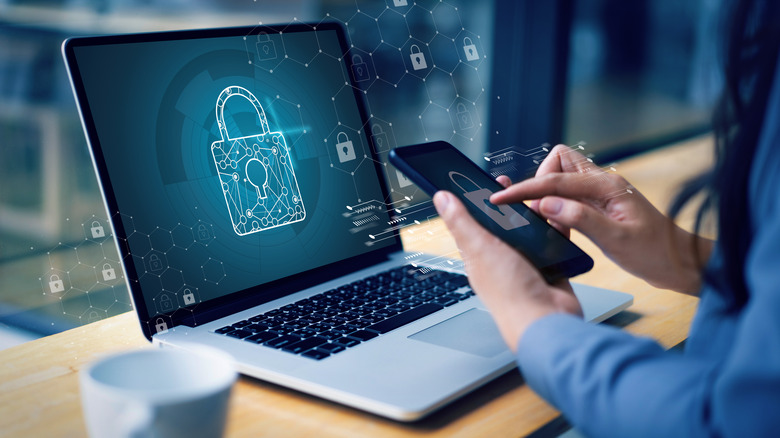 one photo/Shutterstock
Much like there are plenty of viruses that affect Android phones, there are also lots of antivirus apps that might seem great at first glance. However, upon closer inspection, some of them are riddled with ads and don't actually do much to help you stay protected. When you search for the right app to suit your needs, some of them will be free and some will require an upfront payment or a monthly subscription. Here are some of the most popular options (based on download numbers and ratings) for you to explore.
BitDefender for Android: You can use the free version of this app that will passively protect your phone as well as allow scanning for viruses, but you can also pay to use the full-fledged version that expands the security and adds VPN access.
Avast One Essential: Avast is a well-known antivirus company in the PC space, but it also has a popular Android app. You can use the app for free to receive virus protection and a small amount of VPN bandwidth, but there's a premium option too — and, unfortunately, the app will constantly remind you of that fact.
Norton 360: This is yet another PC giant that made its way to Android. Norton doesn't offer a free version of its app, but if you're willing to pay for it, you will get a number of features, including an ad blocker and a Wi-Fi analysis tool. The app costs $14.99 per year for the first year and then goes up to $30 per year.
Kaspersky for Android: This is a solid antivirus option even if you use the free version, but unfortunately, you only get real-time protection if you pay $15 per year for the premium version.
Pick the app that best suits your needs, download it from the Google Play Store, and install it onto your Android smartphone or tablet.
How to use antivirus software on Android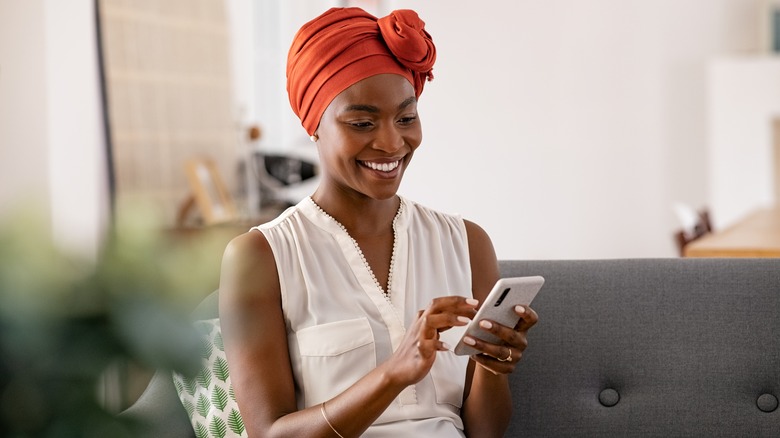 Rido/Shutterstock
Each of the apps mentioned above should provide you with enough protection to not have to worry about Android viruses too much. Whether you chose a paid or a free version, you will have access to a tool that will scan your phone for malicious software. You should do this periodically. Doing so every couple of weeks is a safe approach, especially if you use your phone often. Make it a habit to always run a scan if you accidentally find yourself clicking a link that doesn't seem all too trustworthy, too. We'll now give you a quick rundown of what to do with your new antivirus app.
Pick your app and install it through the Google Play Store. 
You will most likely have to register an account to use the app.
If you are picking a paid option, pay for your chosen service.
Each of the apps will offer to scan your phone as the first step after set-up. This will check all of the apps on your phone and your storage for viruses.
Once the scan is concluded, you can review the results. If any viruses were found, you'll be told where they were. Remove all of them through the app.
Go into the app settings and look for options to set up regular scanning. Depending on the app, you may also be offered real-time protection, which will run in the background as you use your phone.
Make sure to repeat these scans every so often. After you've had the chance to familiarize yourself with the free version of the antivirus product, you might want to consider upgrading. In the case of BitDefender and Avast, it's most likely going to be worth it — especially if you want to regularly use a VPN and don't already subscribe to one.