Optus takes wraps off customer concierge service to take NBN out of the equation
Optus has unveiled a service it has been using since May, which gives customers moving to the NBN a single interface for all their needs during the transition off legacy network.
Speaking at the annual ACCAN conference on Wednesday, Optus CEO Allen Lew said the telco was standing up the service to help customers that are confused by having sub-contractors, NBN, and retailers in the mix, as well as to help customers chase answers and deal with a process that lacks visibility.
"For every customer that is moving from the existing legacy fixed line network, we will assign an individual customer care agent to be that one single point of interface between the customer and ourselves, and we will take NBN out of this equation so there is one less person to deal with," Lew said.
"We will also extend this to 30 days from the installation of the NBN service, so that customers know that somebody is sitting, looking at their respective broadband service to make sure it is delivering the speeds that we have communicated."
Lew said the telco has been using the agents since May, and has been gradually ramping it up since.
"We've taken it upon ourselves at our own cost to make sure that Australians go through a seamless process as we move onto the next-generation of fixed line technology," he said.
"We believe that rather than whinging about what NBN should and should not be doing, we believe in not being a victim of circumstance, but taking it under our control."
The Optus CEO also said the telco was looking to boost its customer service, even if it doesn't add to the bottom line.
Also speaking at the conference was deputy chair of the Australian Competition and Consumer Commission (ACCC) Delia Rickard, who provided more detail on the regulator's latest legal stoush against the telco.
In June, the ACCC filed an action alleging Optus misled consumers about the need to move to the National Broadband Network.
The consumer watchdog alleged that Optus sent an email on 24 May, 2018 advising some of its mobile customers that their broadband service would be "disconnected very soon" and encouraged them to "make the switch, before it's too late".
The email was allegedly sent to 138,988 of Optus' mobile customers.
Rickard said the communications were to Optus mobile customers that used a different telco for fixed line, but were already using the NBN.
Optus acknowledged it misled customers about the need to migrate to the NBN and apologised to customers who received the email.
It offered a costless exit for those who took up the offer, the telco said at the time.
Optus has been the long-term leader in complaints per 10,000 services, as Optus and the industry as a whole, has seen its overall complaints level decline.
The Communications Alliance said at the time that the July numbers were the lowest for the second quarter since 2016.
Related Coverage
Optus unveils AU$30 travel SIM for Australia with 60GB
Visitors given 60GB for 28 days, for the cost of AU$30.
Optus gained exemption to store metadata unencrypted
Use of legacy applications allow Optus to seek an exemption from the rules.
Optus on the path to modernising phone calls
The telco has developed applications that can transcribe voice calls in real-time and translate them from different languages into English.
Myriota and Optus Business add terrestrial connectivity to satellite IoT plans
Agreement will see IoT users able to maintain connectivity in remote Australia.
ACCC takes credit for Optus NBN outage improvements
Optus has deployed a firmware update to customer to reduce its outage rate.
Here's How Long A Tesla Model Y Battery Will Actually Last
Many of us have found ourselves at the side of the road waiting for someone to arrive with a gas can to fill our empty tank. Pushing your gasoline-powered engine too far when the gauge is reading "E" will do that. And like pushing your luck with these types of vehicles, you'll find yourself in a similar situation with an all-electric model if you aren't planning your journey with care, requiring roadside assistance or an emergency charging solution.
The Tesla Model Y is equipped with a long-range battery that will last you a full day on the road in the vast majority of situations. If you are driving the Performance Model Y, this vehicle will carry you an average of 303 miles on a full charge, according to Tesla. Should you be considering the Long-Range Model Y, you can expect the battery to last longer, getting 330 miles on the same charge. 
By charging the EV overnight when you are finished, you'll have a fully charged battery to begin your day, assuming you have a home charger. And if you are running low on juice, you'll find over 35,000 Tesla Supercharging Stations around the world, around 1,400 of which are in the United States, according to the latest data from Scrape Hero. Plug your Model Y into one of these spots and Tesla says on its website that you can expect to get around 200 miles of range after 15 minutes of charging.
The Most Luxurious Features Of Leonardo DiCaprio's $1.5 Million Motorhome
The features inside DiCaprio's trailer are over-the-top, to say the least. It is 53-feet-long with four slide-out sections that can extend from 400 to 700 square feet at the touch of a button (via The Sun). According to Rovsek, it is the largest and most luxurious motorhome in the entire fleet.
It comes equipped with two fireplaces (in case one was not enough), and state-of-the-art technology including seven TV screens throughout the entire trailer. The motor home features mirror-covered ceilings and heated marble floors in the bathrooms, living room, and kitchen. It also features a wine bar and heated marble floors, according to Bloomberg Quicktake.
Surprisingly, the crown jewel in this upscale trailer is not the lounge area or the master bedroom. Instead, it is a custom-designed £40,000 walk-in shower. The shower was reportedly made with recycled glass and took craftsmen two weeks to install (via The Sun). 
Here's The Easiest Way To Scan Your Android Phone For Viruses
Maor_Winetrob/Shutterstock
There's a common misconception about smartphones, and it's a dangerous one: many people believe they don't need to worry about viruses, spyware, and malware when they're using a phone. If only that were true! Unfortunately, there are tons of smartphone viruses out there, and it's more important than ever to try to protect yourself. After all, it's not uncommon for our phones to hold access to some of our most private data, including passwords, messages, and even bank accounts. If you want to stay safe, it's a good idea to scan your phone with an antivirus app.
You might often hear about various computer hacks and exploits, but when it comes to smartphones, things are usually pretty quiet — but that's not due to a lack of malicious software. According to AVTest, the number of Android malware is steadily growing. In 2021, the company registered 3.28 million instances of Android-specific malware, and there might very well be many more in reality. Even if you're normally careful, it's important to go the extra mile if you want to secure your phone alongside some of your most important data.
Remember that even phones that come with various protective measures from the get-go, such as the Samsung Galaxy handsets, can become compromised. If you already have an antivirus app on your phone, make sure to use it regularly. However, if you don't or you do but you're looking to switch to something else, read on to see some of the options available.
Popular antivirus apps for Android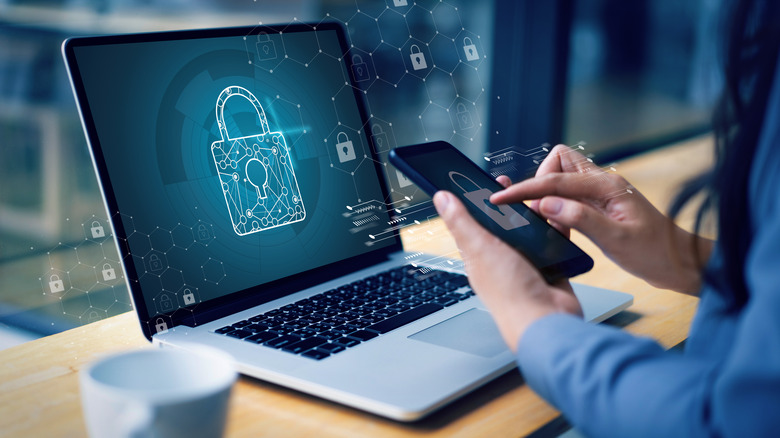 one photo/Shutterstock
Much like there are plenty of viruses that affect Android phones, there are also lots of antivirus apps that might seem great at first glance. However, upon closer inspection, some of them are riddled with ads and don't actually do much to help you stay protected. When you search for the right app to suit your needs, some of them will be free and some will require an upfront payment or a monthly subscription. Here are some of the most popular options (based on download numbers and ratings) for you to explore.
BitDefender for Android: You can use the free version of this app that will passively protect your phone as well as allow scanning for viruses, but you can also pay to use the full-fledged version that expands the security and adds VPN access.
Avast One Essential: Avast is a well-known antivirus company in the PC space, but it also has a popular Android app. You can use the app for free to receive virus protection and a small amount of VPN bandwidth, but there's a premium option too — and, unfortunately, the app will constantly remind you of that fact.
Norton 360: This is yet another PC giant that made its way to Android. Norton doesn't offer a free version of its app, but if you're willing to pay for it, you will get a number of features, including an ad blocker and a Wi-Fi analysis tool. The app costs $14.99 per year for the first year and then goes up to $30 per year.
Kaspersky for Android: This is a solid antivirus option even if you use the free version, but unfortunately, you only get real-time protection if you pay $15 per year for the premium version.
Pick the app that best suits your needs, download it from the Google Play Store, and install it onto your Android smartphone or tablet.
How to use antivirus software on Android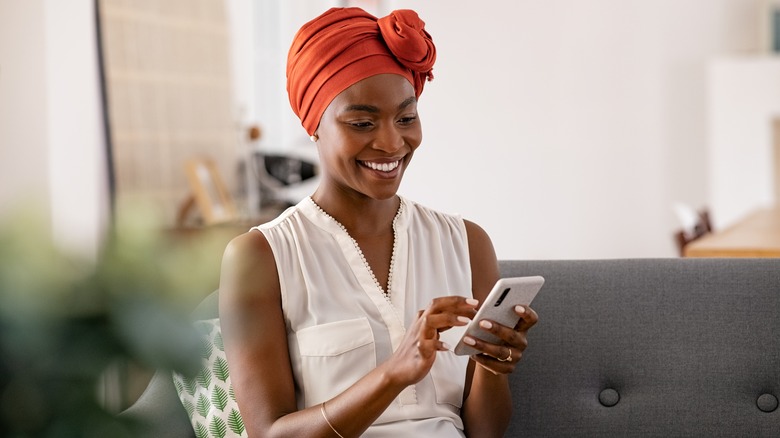 Rido/Shutterstock
Each of the apps mentioned above should provide you with enough protection to not have to worry about Android viruses too much. Whether you chose a paid or a free version, you will have access to a tool that will scan your phone for malicious software. You should do this periodically. Doing so every couple of weeks is a safe approach, especially if you use your phone often. Make it a habit to always run a scan if you accidentally find yourself clicking a link that doesn't seem all too trustworthy, too. We'll now give you a quick rundown of what to do with your new antivirus app.
Pick your app and install it through the Google Play Store. 
You will most likely have to register an account to use the app.
If you are picking a paid option, pay for your chosen service.
Each of the apps will offer to scan your phone as the first step after set-up. This will check all of the apps on your phone and your storage for viruses.
Once the scan is concluded, you can review the results. If any viruses were found, you'll be told where they were. Remove all of them through the app.
Go into the app settings and look for options to set up regular scanning. Depending on the app, you may also be offered real-time protection, which will run in the background as you use your phone.
Make sure to repeat these scans every so often. After you've had the chance to familiarize yourself with the free version of the antivirus product, you might want to consider upgrading. In the case of BitDefender and Avast, it's most likely going to be worth it — especially if you want to regularly use a VPN and don't already subscribe to one.