Startup Law A to Z: Customer Contracts – TechCrunch
Your startup needs customers to survive. If and when you make sales or generate installs, you are wading into the fast moving stream of commerce and exposing yourself to risk. Well-drafted customer contracts limit your liability and create legally enforceable rights to get paid for your work. In fact, contracts are actually dispute prevention mechanisms, forcing parties on either side to clearly define what is supposed to happen in advance, aligning expectations and increasing the likelihood that all goes according to plan.
So developing a working understanding of contracts generally, a deep understanding of your core customer contracts specifically, and hiring a competent lawyer to draft key contracts from the beginning, together represent an investment that will pay dividends over the life of your startup.
This article, the third in Extra Crunch's exclusive "Startup Law A to Z" series, follows previous articles on intellectual property (IP) and corporate matters. If you are tuning in now, this series is designed to provide founders enough information to intelligently analyze business circumstances vis-à-vis certain common legal issues startups face. These articles are detailed and admittedly lengthy, but the concepts discussed are critical for founders to understand deeply.
If after reading this or other articles in the "Startup Law A to Z" series, you identify legal risks facing your startup, then other Extra Crunch resources can help. For example, the Verified Experts of Extra Crunch include detailed profiles of "Verified Expert Lawyers" – some of the most experienced and skilled startup lawyers in practice today. You can and should use these resources to identify attorneys focused on serving companies at your stage with experience in the particular matters at hand and simply reach out for further guidance.
The Customer Contracts checklist:
Contract Law Generally
Contract Formation
Term and Termination
Breach and Remedies
Terms of Use vs. End User License Agreements
Distinctions and Key Provisions
Enforceability through Click-Wrap Agreements
Notice of Amendments and Revisions
Privacy Policies
State, Federal, International Laws:

CCPA
CalOPPA
Required under Cal. Bus. & Prof. Code § 22575(a)
FTC (COPPA, HIPAA, Gramm-Leach-Bliley Act)
GDPR

Disclosure and Enforceability
NDAs
Mutual vs. One-Way
Definition of Confidential Information
Residual Clauses
Non-Solicit and Non-Competes
Master Services Agreements and Service Level Agreements
Y-Combinator "Sales Agreement" / MSA Template
Deal Terms, Legal Terms, Boilerplate Terms
Legal Terms Explained:

Warranty and Disclaimer
Indemnity (and Insurance)
Limitation of Liability
Contract law generally
What is a contract? Any law student preparing for the bar exam will tell you, in monotone: "a contract is a promise or set of promises, for breach of which the law provides a remedy, or the performance of which the law recognizes as a duty."
Simple enough, but which law? For contracts, it is primarily the "common law" which governs contracts, that is, law derived from judicial decisions and not government-enacted statutes (historical background courtesy of UC Berkeley). That said, contracts for the sale of "goods" are governed by specifically promulgated rules set forth in the Uniform Commercial Code (or "UCC"). And yes, in certain circumstances, courts have found that software may be considered "goods" for this purpose, see On Contracts.
Here's How To Lock Chrome's Incognito Mode Tabs With Your Fingerprint On iPhone
Millions of internet users worldwide use Chrome's Incognito mode to hide and protect their web activity. Google mentions on a support page that Incognito mode doesn't keep a record of the websites you've visited or the site data/cookies associated with the browsing session. Further, with locked Incognito Tabs on Chrome, iPhone users can be double sure about their privacy. Before the feature arrived, iPhone users had to manually close all the Incognito Tabs before handing over their phone to someone else. The locked Incognito Tabs feature locks all the Incognito Tabs in the current session behind a password or biometric entry.
Once you enable the locked Incognito Tabs feature on your iPhone, you wouldn't have to worry about anyone sneaking on your Incognito Tabs. The moment you minimize Google Chrome and open another app, or head to the home screen, Chrome will lock the Incognito Tabs. The next time you try to access the tabs, Chrome will ask you to enter your iPhone's passcode or a registered biometric match. On certain iPhone models like the iPhone 8 or the iPhone SE (2022), Chrome allows unlocking Incognito Tabs via Touch ID. On the other hand, iPhone models like the iPhone 13 and iPhone 14 ask users to access their Incognito Tabs through Face ID, as these models don't have a fingerprint scanner.
Nevertheless, whether you have an old or a new iPhone, the locked Incognito Tabs feature should come in handy. Let's discuss the steps involved in enabling the feature on an iPhone (or an iPad).
Here's how to lock Incognito Tabs on iPhone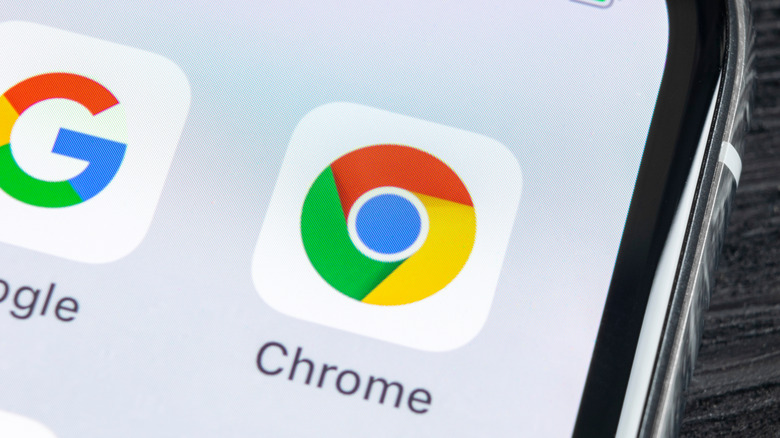 BigTunaOnline/Shutterstock
The locked Incognito Tabs feature is located in Chrome's Settings menu, and it is pretty easy to enable it. Follow the steps given below on your iPhone.
Open Google Chrome.
Press the three-dot icon at the bottom right corner of the screen. You should see a menu with a quick action list on top.
Swipe left on the list and hit the Settings option.
Now scroll down to locate and select the Privacy and security option.
In the Privacy and security menu, tap on the toggle beside Lock incognito tabs when you close Chrome. Tap Enable in the confirmation dialogue box, and you're ready.
Press Done to get out of the Settings menu and back to the browsing screen.
Upon following all the steps successfully, you should be able to activate the locked Incognito Tabs. Now, let's test the feature.
On Google Chrome's browsing window, hit the three-dot icon at the bottom right corner and tap New incognito tab.
In the incognito tab, conduct a Google search.
Once you see the search results, swipe up from the bottom edge of the display to open the Home Screen.
Now, reopen Google Chrome. You should see a button on your screen that reads Unlock with Touch ID or Unlock with Face ID.
Hit the unlock button and then place your registered finger on the Touch ID sensor, or place your iPhone in front of your face to confirm via Face ID.
Upon verifying it's you, Chrome grants access. 
Things to keep in mind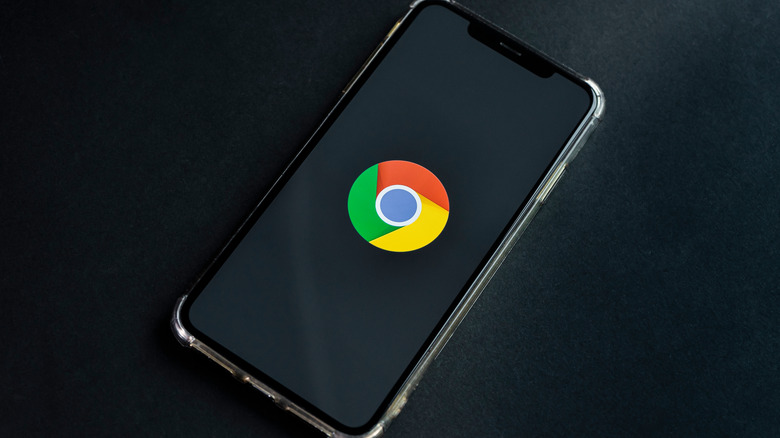 Gargantiopa/Shutterstock
Now that you know how to lock your Incognito Tabs on Chrome, here are a few things to keep in mind. You might think you'll lose your Incognito Tabs if you remove Google Chrome from the recent apps list, but that is not true. Even if you do that and reopen the app, you'll find your Incognito Tabs intact behind the biometric lock.
The second thing you should know is that Chrome only locks the Incognito Tabs upon minimizing the app, which means that your regular tabs are still vulnerable. In other words, even with the locked Incognito Tabs feature enabled, anyone can access the regular tabs on your iPhone. If the feature is unavailable on your iPhone, update the Google Chrome web browser from the App Store. Since it has been around for over a year, there's a good chance you won't need to update Chrome to get the feature.
Overall, the locked Incognito Tabs feature acts as an extra layer of security over anonymous browsing, as it's not just the digital threats you need to stay away from – you need to handle the bad actors in real life.
2024 BMW X5 And X6 Show Why Electrification Really Matters
Automakers are pushing, now more than ever, to electrify their lineups. Whether through plug-in hybrids that can go a few miles while running only on batteries, or by making fully electric versions of cars, several automakers are continuing to iterate on electric car design. 
Chevrolet made waves with the long-rumored Corvette E-Ray hybrid that's helped by both electric motors and a 6.2-liter V8. BMW electrified the 7-Series in the form of the 2023 BMW I7 xDrive60. That car benefitted from 544 horsepower and upwards of 310 miles of range. Cars are changing rapidly as electrification becomes more practical, and many automakers are planning on either hybridizing or electrifying their entire lineups within a few short years.
BMW just announced a host of changes to its X5 and X6 SUVs for the 2024 model year. Those changes bring a host of improvements to both models with more powerful engines, a more high-tech and contemporary interior, and a much-improved plug-in hybrid version of the X5.
Useful electrification
BMW
According to a press release from BMW, there will be two new engine choices for the X5 and X6: a twin-turbo 3-liter inline 6 that produces 375 horsepower on the X5 xDrive40i and X6 xDrive40i models, and a twin-turbo 4.4-liter V8 that throws down 523 horsepower on the X5 M60i xDrive and the X6 M60i xDrive. Both engines will benefit from a 48-volt mild hybrid system that boosts torque, and works with the eight-speed transmission to allow for a smoother driving experience. 
The real star of the new model range is the plug-in hybrid X5 xDrive50e. The revised drivetrain consists of a twin-turbo inline-6 and an electric motor that puts out 483 horsepower and 516 pound-feet of torque when working together. BMW says the plug-in X5 can accelerate from 0-60 miles per hour in 4.6 seconds, showing that a hybrid system is useful for more things than just efficiency. BMW also says that the plug-in can travel up to 40 miles on just battery power without using a drop of gas.
Modernized, capable interior
BMW
The inside of both the X5 and X6 will also feature a new 12.3-inch curved infotainment screen, and a 14.9-inch curved display for controls. Updates bring the infotainment in the X5 up to the latest BMW iDrive software, alongside a new heads-up display, Augmented View, and more modern features.
The displays will be paired with the updated BMW Operating System 8, which includes improvements to the optional driver support systems with the new Highway Assistant, and reverse assistance with optional parking assistance technology as well.
The base model X5 sDrive50i starts at $65,200, the X5 xDrive40i begins at $67,500, the plug in X5 xDrive50e has an MSRP of $72,500. The X6 xDrive40i starts at $73,900. Lastly, the M60i xDrive versions of the X5 and X6 start at $89,300 and $93,600 respectively. Prices do not reflect the $995 destination charge.
BMW says that production will begin in April of 2023 at BMW's Spartanburg, South Carolina plant.
How To Retrieve Deleted Files From iCloud
The file recovery process varies slightly between devices, but getting a deleted file back usually takes just a few steps. After you have restored a file, folder, or album, you can find it in the same destination where it was before deletion. 
If you deleted the files from iCloud web or iCloud Drive:
Click the sidebar.
Click the Recently Deleted tab.
Select the files you want to recover.
Click Recover.
If you want to restore all files in the Recently Deleted section, instead of selecting all files one by one, click Recover All (via Apple).
If you deleted the file on a Mac:
Click the Quick Access menu button on the iCloud app on your Mac.
Click Data Recovery.
Click Restore files.
You can also find the file in Trash and drag it out. Or, right-click the removed file in Trash and select Put Back. Your file will be sent back to where it was originally (via Apple).
On your iPhone or iPad:
Open Files
Select Recently Deleted.
Touch and hold the file you want to retrieve.
Select Recover.
If you want to restore contacts, calendars, bookmarks, or reminders, 
Go to iCloud settings on the iCloud app or iCloud website.
Find the Restore settings under Advanced.
Pick your preferred data type.
Select the backup to restore.
There a is caveat, however. If you empty Trash or Recently Deleted, your file is permanently erased (via Apple). We recommend maintaining a physical backup on a USB stick or external hard drive to keep important data safe.