Telstra turns to SDN for speedy intra-Asia subsea cable switcheroo
Telstra has announced it is offering a rapid restoration service for subsea cable outages on three of its intra-Asia routes. Currently the telco offers restoration in eight hours, but has flagged that could be reduced to minutes.
The Australian telco is using Ericsson equipment with Ciena's GeoMesh Extreme to "increase the intelligence", or virtualisation and automation, of its subsea cable network.
"The Asian region presents one of the most challenging environments for subsea cable systems. Busy and shallow shipping ports in Hong Kong and Singapore, high-levels of fishing activity and an ecosystem prone to natural disasters, all threaten to disrupt or damage underwater infrastructure," Telstra's Head of Connectivity and Platforms Nadya Melic said.
See: How Telstra handles subsea cables during typhoons
"Damage to a subsea cable can take weeks or even months to fix. But with our new continuous connection service, we are able to reroute customers impacted by potential damage to another subsea cable path on our three path network in less than 30 minutes."
Melic added the under half-hour period was "almost seamless restoration".
Earlier this week, Telstra announced it had purchased more capacity on the New Cross Pacific cable, as well as made a new investment in the faster cable — the details of either were not disclosed.
"Capacity demand on our international network has almost doubled over the past two years to over 200Tb, driven by the explosion of cloud computing, video streaming, and e-commerce," Telstra Enterprise Group Executive Michael Ebeid said at the time.
Last month, Telstra announced it was buying into the Southern Cross Cable Network through the purchase of new shares that will give the telco a 25 percent stake in the company.
The telco also agreed to purchase "substantial" capacity on Southern Cross' existing network and the NEXT subsea cable.
Southern Cross announced in August last year that it will start building the $350 million NEXT submarine cable, which it touted as being the fastest between Australia and New Zealand, and the United States.
The third cable is expected to provide an additional 60Tbps capacity to the existing 20Tbps on the two present Southern Cross cables, and will be ready for service in early 2020.
Subsea cables across the globe
Vocus' Australia-Singapore Cable (ASC)
Vocus' North West Cable System (NWCS) between Darwin and Port Hedland, and the new Tiwi Islands spur being added
The Australian government's Coral Sea subsea cable, being constructed by Vocus to connect Australia, Papua New Guinea, and Solomon Islands and funded through the foreign aid budget
Google's Dunant transatlantic subsea cable between Virginia Beach in the United States to the French Atlantic coast
The Indian government's Chennai-Andaman and Nicobar islands subsea cable, being built by NEC
Southern Cross Cables' NEXT subsea cable system between Australia, New Zealand, and the United States, being built by SubPartners
The Trident subsea cable system connecting Perth with Singapore via Indonesia
The Jupiter subsea cable connecting the US, Japan, and the Philippines and being built by a consortium including Facebook, Amazon, SoftBank, NTT Com, PLDT, and PCCW
The Hawaiki subsea cable between Australia, New Zealand, and the US
Superloop's Hong Kong cable
Telstra's Hong Kong Americas (HKA) cable between Hong Kong and the US
Telstra's Pacific Light Cable Network (PLCN) between Hong Kong and the US
Google's Japan-Guam-Australia (JGA) cable system
The Asia-Pacific Gateway (APG) subsea cable connecting China, Hong Kong, Japan, South Korea, Malaysia, Taiwan, Thailand, Vietnam, and Singapore, owned by a consortium including China Telecom, China Unicom, China Mobile, NTT Communications, KT Corporation, LG Uplus, StarHub, Chunghwa Telecom, CAT, Global Transit Communications, Viettel, and VNPT, and being constructed by NEC
The Southeast Asia Japan 2 cable (SJC2), which will have 11 landing stations in Singapore, Thailand, Cambodia, Vietnam, Hong Kong, China, South Korea, Taiwan, and Japan, being built by NEC and funded by a consortium including China Mobile International, Chunghwa Telecom, Chuan Wei, Facebook, KDDI, Singtel, SK Broadband, and VNPT
The Bay to Bay Express Cable System (BtoBE), connecting Singapore and Hong Kong with the US, being funded by consortium including Facebook, Amazon Web Services (AWS), and China Mobile International, and being built by NEC
The South Atlantic Cable System (SACS) connecting Angola and Brazil, going live in October 2018 after being built by NEC
Can You Use An Xbox Controller On Nintendo Switch?
It's worth noting that some of the Xbox controller's functions do not work on Switch, nor are many of the Switch's unique features supported by the controller. Specifically, it lacks support for rumble, NFC, analog triggers, trigger vibration, the audio jack, IR input, and the LED doesn't correlate to any Switch functions, including player indicators. You also can't wake the Switch up from sleep using the controller.
You'll also want to keep in mind that Xbox controllers swap the positions of several face buttons in relation to Switch controllers, so the labels won't match up perfectly. For instance, the positioning of the "A" and "B" buttons on the Xbox controller correspond to "B" and "A" on the Switch controller, respectively. The same is true for the "X" and "Y" buttons. Otherwise, the Switch's controller scheme perfectly matches the Xbox controller's available buttons and triggers.
None of this is the fault of the 8Bitdo adapter. These limitations are simply the byproduct of marrying two devices that were not designed to work together. If that's a dealbreaker, then your best bet is to buy an officially licensed Nintendo Switch controller. The best alternative for Xbox fans is Nintendo's official Pro Controller.
The Incredible Capabilities Of The US Air Force's New Supersonic Training Jet
According to the USAF, Boeing will produce over 350 Red Hawk aircraft as part of a contract worth more than $9.2 billion. There's also speculation that the Red Hawk's design could be easily modified to incorporate radar systems, electronic warfare equipment, or under-wing weapon stations, making it an attractive purchase for other U.S. military branches or even international allies.
The training jet features a glass touchscreen cockpit that provides a more modern flair — as well as a more practical piloting experience, one would hope — and tiered seating, so both the instructor and the trainee have sufficient ability to pilot the aircraft without visual obstructions.
Production models of the T-7A Red Hawk sport a red tail section, a reference to the red-painted tails of the aircraft flown during World War II by the 99th Fighter Squadron, better known as the "Tuskegee Airmen." One of the planes they flew was the Curtiss P-40 Warhawk, which influenced the design of the T-7A Red Hawk.
In the same tradition of equality that the Red Hawk's name and design aspire to embody, the training jet is built to safely accommodate a wider variety of pilot body types and sizes than previous jets, allowing for a larger recruiting pool including more women than has historically been the case. Let's hope similar updates make their way to the USAF's other next-gen aircraft.
How To Transfer Digital Games To A New Nintendo Switch
Let's say you've just gotten ahold of a brand-new Nintendo Switch console, but this isn't your first. Maybe it's an upgrade to the fancy OLED model, perhaps you've been sharing with family, and this one is just for you. Whatever the reason, if you already have or have had a Switch, and now you have a new one, you don't have to start building up an entirely new games library (or even start your games over).
Thankfully there are ways to transfer your digital games from one Switch to another, along with your user accounts and saves. While the process is a bit different depending on whether you have access to that original Switch console, it's still doable either way. Just know that it might take a little more effort without the console where all of your info was previously saved. And you'll likely lose any game progress that wasn't backed up using Cloud saves.
If you still have the original Switch console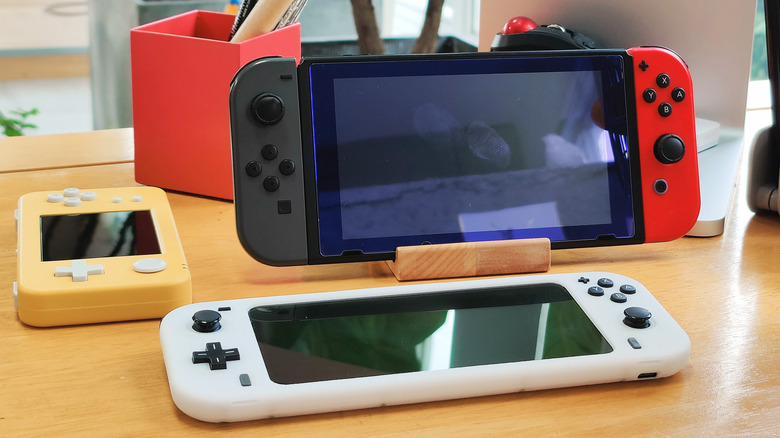 Jack Skeens/Shutterstock
Assuming you do have both the previous Switch and the new one you want to transfer everything over to, here's what you do:
From the original Switch, open System Settings (the icon looks like a gear) on the Home menu.
Select Users, then select Transfer Your User Data.
Select Next twice, and then choose Source Console to mark this Switch as the transferrer.
Select Continue, then grab the new Switch console to which you want to move everything.
From the new Switch, open System Settings and select Users, then Transfer Your User Data.
Select Next, Next again, then choose Target Console to designate this Switch as the transferee.
Select Sign-in, then sign into your Nintendo Account using either the associated email or sign-in ID.
Select Sign-in, then Next, then go back to the original Switch.
Wait for the systems to find each other, then select Transfer.
Wait until the transfer is complete (this may take several minutes), then select End to finish.
If you no longer have the original Switch console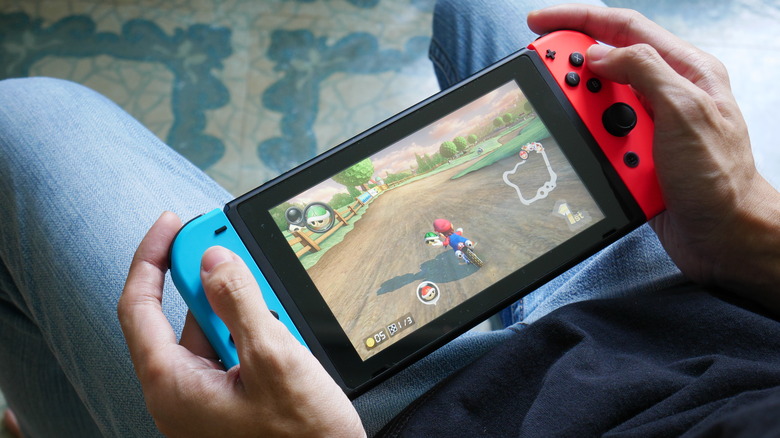 Wachiwit/Shutterstock
Things are a little more time-consuming without access to the original Switch console on which your account was created or primarily used. Also, note that any saved data that hasn't been backed up via Cloud storage will not be able to carry over.
First, ensure the original Switch console has been deactivated (via Nintendo), which can be done remotely through your Nintendo Account via the official website.
Next, if you haven't done it yet, link your Nintendo Account (via Nintendo) to the new Switch console.
Log into the eShop on the Switch using your Nintendo Account, which will designate it as the primary console.
You can download cloud backups of your game saves — if you have a Switch Online subscription and have been using the feature.
You can also access your account's download history through the eShop and begin installing any of the digital games you've previously purchased. This will, of course, take longer when dealing with more or larger games and will require an adequate amount of storage space.