The 2021 Cadillac Escalade has a golden goose problem
The Escalade is Cadillac's golden goose. Other models in the automaker's range have struggled to find purchase, as it tries its best to pitch a vision of "American luxury" that will distract buyers from the German segment mainstays. Escalade demand, though – even as the outgoing model aged, and this replacement neared – has remained solid.
That can be a blessing and a curse when it comes to figuring out a replacement. The stakes are probably the highest they've ever been, with Lincoln's Navigator receiving rave reviews – from myself included – and presenting a modern, distinctive alternative in a segment the Escalade has long dominated. Cadillac couldn't play it safe, but that brings with it risk, too.
Turn off loyalists by inadvertently diluting what's seen as giving the Escalade its unique personality, and the goose could well be stuffed. It's a tough balance to strike, and I'm not sure Cadillac has quite got it right.
Where's the melodrama?
The last-generation Escalade may have been first unveiled back in 2013, but it still has presence on the road. A vast chromed grille with huge slats, flanked by towering headlamps, it was a slab-sided beast that teetered between Art Deco and Brutalism. Somehow, though, it worked.
Fast-forward to the 2021 Escalade, and it's a far more restrained affair. The grille is still large, but is now filled with slim, sweeping lines; the headlamps are squinting LED eyes familiar from the CT6. Cadillac's distinctive vertical light bars remain, but they simply bookend the fascia rather than bridge directly into the headlamp clusters.
At the sides, the wheel arches lack some of the swollen heft of its predecessor; the kicked-up belt line where the rear doors meet the third-row glass robs the Escalade of its seemingly endless length. Despite the 2021 SUV being actually longer than the old model, it doesn't really look it. Even the standard 22-inch wheels, huge by anybody's standards, somehow manage to look small.
Past the bland, a killer cabin
Where the 2021 Escalade shines is inside. The old cabin suffered from mediocre third-row legroom and its glossy black dashboard plastics were an ugly magnet for fingerprints and dust. While it wasn't entirely short on gadgets, the touchscreen was small compared to what rivals like the Navigator were offering.
All that changes with the new Escalade. The change in underlying platform pays huge dividends in the rear: a whole 10-inches more legroom in the third row. Considering most automakers are happy to boast of fractions of an inch more space, it's a vast improvement.
The dashboard, too, now wows. Cadillac may not have delivered a single, 38-inch curved OLED panel like it first implied, but its trio of wraparound screens are hardly a disappointment nonetheless. Crisply high-resolution, they emphasize the width of the cabin, where the old dash divided it down the center.
Older iterations of Cadillac's infotainment system were – rightly – slated for their cluttered, confusing, and slow UX. The 2021 Escalade demonstrates conclusively that Caddy has learned its lesson. Easily customizable with gestures familiar from iPads and iPhones, it makes good use of the screen real-estate on offer by avoiding nested menu after menu. There are enough physical controls to keep the key functions a single touch away, but not so many as to feel like button overload.
Super Cruise, now with automatic lane-changing, is present and correct, just as it should've been from the start: again, flagship feature for Cadillac's flagship vehicle. NFC phone pairing and wireless charging are standard, and Cadillac liberally sprays USB-C ports about the cabin. Gone is the miserly sunroof of the old Escalade, with all but the entry-level SUV now getting a panoramic roof.
We still have questions – and Cadillac still has gaps
Vastly improved the cabin may be, but Cadillac still has some questions to address. The 6.2-liter V8 engine is likely to be more than sufficient to keep the 2021 Escalade thrumming along nicely, particularly with the optional Magnetic Ride Control and Air Ride Adaptive Suspension. A new 3.0-liter turbo-diesel should make for a more efficient option, not to mention bring in its bags of torque from low down in the rev range.
In the aftermath of GMC announcing the Hummer would return as an electric truck, though, the electrified Escalade was conspicuous by its absence. Cadillac has offered a hybrid version in the past, combining a V8 gas engine with a pair of electric motors, and it's hard to imagine the automaker doesn't have electrification plans for this new SUV. Even if it's not a full-EV, some way to capitalize on the economy, quiet, and torque of electric motors seems like an obvious route, and it's one that Lincoln is eagerly undertaking with its rival luxury trucks.
The other big question is price. Cadillac confirmed to me that it aims to bring in the 2021 Escalade with the same sort of starting price as the outgoing model: that starts at just shy of $76k. That's for the entry-level Luxury trim, though, and the reality is that it's when you step up to the Premium Luxury or Sport trims that things get interesting. Pricing for Super Cruise, too, hasn't been announced.
Has Cadillac done enough?
Automotive journalists are a cynical bunch at the best of times. The temperature of the room at Cadillac's big unveil, though, was unexpectedly warm toward the big SUV. While opinion may have been divided on the aesthetics, most people I spoke to seemed pretty confidence that the 2021 Escalade brings more than enough to its battle with the latest Navigator.
I don't doubt that it'll drive well, and the increase in cabin and cargo space address a significant and valid criticism about the old SUV. If I've a lingering concern, though, it's that Cadillac has discovered to its cost in recent years that having solid product isn't necessarily enough to translate to sales success.
The CT6 is an excellent luxury sedan, handsome and rewarding from behind the wheel, but has struggled to raise its profile in the face of the all-conquering Audi/BMW/Mercedes trifecta. The biggest criticism you could arguably level at it is that, despite Caddy's claims of bold, American luxe, it simply doesn't do enough, differently, to be memorable. Cadillac's recent concept cars have been graceful and demanded your attention; by the time we get to their production offspring, much of that vibrancy has been lost.
The new Escalade could've doubled-down on what the old one did so well: refuse to be overshadowed. Instead this 2021 model feels more grown-up and accomplished, but its maturity runs the risk of losing that brash spirit of its predecessors. I don't doubt the 2021 Escalade will be a better SUV than before, I'm just not sure it'll be as charming.
Here's How Long A Tesla Model Y Battery Will Actually Last
Many of us have found ourselves at the side of the road waiting for someone to arrive with a gas can to fill our empty tank. Pushing your gasoline-powered engine too far when the gauge is reading "E" will do that. And like pushing your luck with these types of vehicles, you'll find yourself in a similar situation with an all-electric model if you aren't planning your journey with care, requiring roadside assistance or an emergency charging solution.
The Tesla Model Y is equipped with a long-range battery that will last you a full day on the road in the vast majority of situations. If you are driving the Performance Model Y, this vehicle will carry you an average of 303 miles on a full charge, according to Tesla. Should you be considering the Long-Range Model Y, you can expect the battery to last longer, getting 330 miles on the same charge. 
By charging the EV overnight when you are finished, you'll have a fully charged battery to begin your day, assuming you have a home charger. And if you are running low on juice, you'll find over 35,000 Tesla Supercharging Stations around the world, around 1,400 of which are in the United States, according to the latest data from Scrape Hero. Plug your Model Y into one of these spots and Tesla says on its website that you can expect to get around 200 miles of range after 15 minutes of charging.
The Most Luxurious Features Of Leonardo DiCaprio's $1.5 Million Motorhome
The features inside DiCaprio's trailer are over-the-top, to say the least. It is 53-feet-long with four slide-out sections that can extend from 400 to 700 square feet at the touch of a button (via The Sun). According to Rovsek, it is the largest and most luxurious motorhome in the entire fleet.
It comes equipped with two fireplaces (in case one was not enough), and state-of-the-art technology including seven TV screens throughout the entire trailer. The motor home features mirror-covered ceilings and heated marble floors in the bathrooms, living room, and kitchen. It also features a wine bar and heated marble floors, according to Bloomberg Quicktake.
Surprisingly, the crown jewel in this upscale trailer is not the lounge area or the master bedroom. Instead, it is a custom-designed £40,000 walk-in shower. The shower was reportedly made with recycled glass and took craftsmen two weeks to install (via The Sun). 
Here's The Easiest Way To Scan Your Android Phone For Viruses
Maor_Winetrob/Shutterstock
There's a common misconception about smartphones, and it's a dangerous one: many people believe they don't need to worry about viruses, spyware, and malware when they're using a phone. If only that were true! Unfortunately, there are tons of smartphone viruses out there, and it's more important than ever to try to protect yourself. After all, it's not uncommon for our phones to hold access to some of our most private data, including passwords, messages, and even bank accounts. If you want to stay safe, it's a good idea to scan your phone with an antivirus app.
You might often hear about various computer hacks and exploits, but when it comes to smartphones, things are usually pretty quiet — but that's not due to a lack of malicious software. According to AVTest, the number of Android malware is steadily growing. In 2021, the company registered 3.28 million instances of Android-specific malware, and there might very well be many more in reality. Even if you're normally careful, it's important to go the extra mile if you want to secure your phone alongside some of your most important data.
Remember that even phones that come with various protective measures from the get-go, such as the Samsung Galaxy handsets, can become compromised. If you already have an antivirus app on your phone, make sure to use it regularly. However, if you don't or you do but you're looking to switch to something else, read on to see some of the options available.
Popular antivirus apps for Android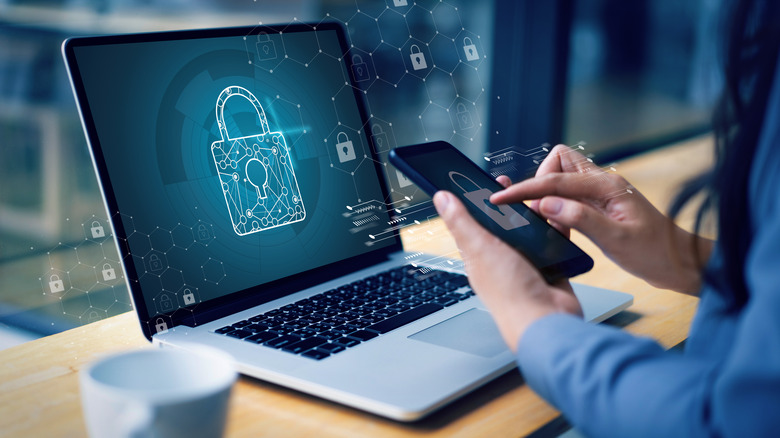 one photo/Shutterstock
Much like there are plenty of viruses that affect Android phones, there are also lots of antivirus apps that might seem great at first glance. However, upon closer inspection, some of them are riddled with ads and don't actually do much to help you stay protected. When you search for the right app to suit your needs, some of them will be free and some will require an upfront payment or a monthly subscription. Here are some of the most popular options (based on download numbers and ratings) for you to explore.
BitDefender for Android: You can use the free version of this app that will passively protect your phone as well as allow scanning for viruses, but you can also pay to use the full-fledged version that expands the security and adds VPN access.
Avast One Essential: Avast is a well-known antivirus company in the PC space, but it also has a popular Android app. You can use the app for free to receive virus protection and a small amount of VPN bandwidth, but there's a premium option too — and, unfortunately, the app will constantly remind you of that fact.
Norton 360: This is yet another PC giant that made its way to Android. Norton doesn't offer a free version of its app, but if you're willing to pay for it, you will get a number of features, including an ad blocker and a Wi-Fi analysis tool. The app costs $14.99 per year for the first year and then goes up to $30 per year.
Kaspersky for Android: This is a solid antivirus option even if you use the free version, but unfortunately, you only get real-time protection if you pay $15 per year for the premium version.
Pick the app that best suits your needs, download it from the Google Play Store, and install it onto your Android smartphone or tablet.
How to use antivirus software on Android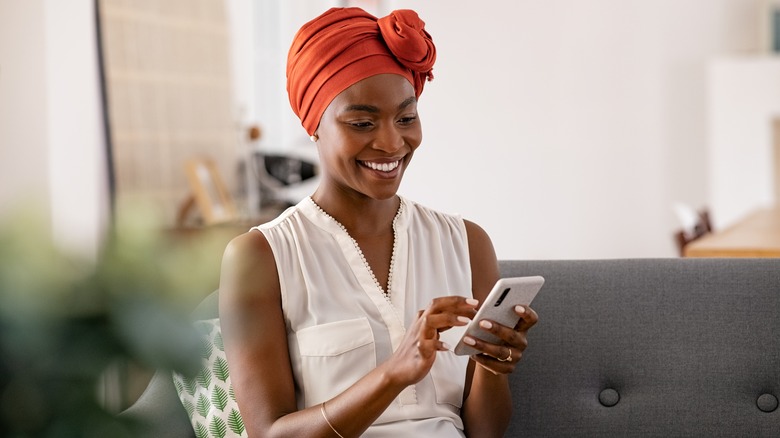 Rido/Shutterstock
Each of the apps mentioned above should provide you with enough protection to not have to worry about Android viruses too much. Whether you chose a paid or a free version, you will have access to a tool that will scan your phone for malicious software. You should do this periodically. Doing so every couple of weeks is a safe approach, especially if you use your phone often. Make it a habit to always run a scan if you accidentally find yourself clicking a link that doesn't seem all too trustworthy, too. We'll now give you a quick rundown of what to do with your new antivirus app.
Pick your app and install it through the Google Play Store. 
You will most likely have to register an account to use the app.
If you are picking a paid option, pay for your chosen service.
Each of the apps will offer to scan your phone as the first step after set-up. This will check all of the apps on your phone and your storage for viruses.
Once the scan is concluded, you can review the results. If any viruses were found, you'll be told where they were. Remove all of them through the app.
Go into the app settings and look for options to set up regular scanning. Depending on the app, you may also be offered real-time protection, which will run in the background as you use your phone.
Make sure to repeat these scans every so often. After you've had the chance to familiarize yourself with the free version of the antivirus product, you might want to consider upgrading. In the case of BitDefender and Avast, it's most likely going to be worth it — especially if you want to regularly use a VPN and don't already subscribe to one.