Uber's spending habits, Tesla Model Y, scooters and AVs in Austin – TechCrunch
Welcome back to Transportation Weekly; I'm your host Kirsten Korosec, senior transportation reporter at TechCrunch. We love the reader feedback. Keep it coming.
Never heard of TechCrunch's Transportation Weekly? Catch up by reading the first edition here or check out last week's edition, which offered the gamut of mobility news from Lyft and Bird to Waymo's laser bears and cybersecurity.
As I've written before, consider this a soft launch. Follow me on Twitter @kirstenkorosec to ensure you see it each week. An email subscription is coming!
This week we'll focus on the city of Austin, gain insight into Uber's spending habits, do a little scooter number crunching, the Tesla Model Y, and the so-called "race" — an overused and inaccurate term — to develop autonomous vehicles.
---
ONM …
There are OEMs in the automotive world. And here, (wait for it) there are ONMs — original news manufacturers. (Cymbal clash!) This is where investigative reporting, enterprise pieces and analysis on transportation lives.
Mark Harris is back with new details on Uber's autonomous vehicle technology program. The upshot: Uber was spending $20 million a month to develop self-driving technologies.
The new information, gleaned from recently unsealed court documents, provides new insight into the company's past activities and what that might mean for its upcoming IPO.
Harris writes: "The figures, dating back to 2016, paint a picture of a company desperate to meet over-ambitious autonomy targets and one that is willing to spend freely, even recklessly, to get there. As Uber prepares for its IPO later this year, the new details could prove an embarrassing reminder that the company is still trailing in its efforts to develop technology that founder Travis Kalanick called "existential" to Uber's future."
This historical look at Uber and its self-driving tech unit, Uber ATG, should be considered alongside more recent news, including that it's in negotiations with investors, including the SoftBank Vision Fund, to secure an investment as large as $1 billion for its autonomous vehicles unit.
---
Dig In
After five days in Austin for SXSW, I headed to Los Angeles, actually Hawthorne, for Tesla's Model Y unveiling. In many ways, this was like all the other Tesla events I've attended: the pumpy music and mood lighting, the designed-to-inspire kick off video, the Tesla superfans (pictured below), and the long lines for a brief test ride.
And yet, something was different. The Model Y unveil reminded me of other more traditional automaker reveals. There were mutterings at the event, and wild cries on Twitter, of disappointment (there were plenty of platitudes as well). Many expected something more exciting than this Model 3 doppelganger.
The Model Y is the kind of next act one might expect from an established and more cautious automaker. And while the market's reaction was negative, there were folks who noted that the Model Y's likeness to the 3 meant it was getting serious about selling vehicles.
And that's not a bad thing — accept for two niggling details. First, the Model Y is so similar to the 3 that it could suffer from buyer malaise or cannibalization of one of the two vehicles. Secondly, even if everyone loved this vehicle and Tesla was poised to take advantage of these perceived efficiencies gained from sharing at least 75 percent of the parts with the Model 3, the Y isn't coming until fall 2020.
That lengthy timeline raises a lot of questions that we'll be (and surely others) digging into in the coming weeks and months. Where Tesla chooses to produce the Model Y is perhaps the most important, unanswered question.
---
A little bird …
We hear a lot. But we're not selfish. Let's share.
Welp, we didn't anticipate this happening. Two tips turned into stories this week: Ford expanding its autonomous vehicle program to Austin and GM Cruise ramping up its hiring machine with plans to hire at least 1,000 more engineers by the end of the year.
What else are we hearing? There's a new autonomous trucking company coming out of stealth. We'll share more soon.
Got a tip or overheard something in the world of transportation? Email me or send a direct message to @kirstenkorosec.
---
Deal of the week
It's not a done deal, yet. But it's just an intriguing. Uber is in talks with Softbank Vision Fund and Toyota to raise $1 billion for its self-driving unit Uber ATG. This investment would give Uber ATG a valuation of between $5 billion and $10 billion, WSJ reported. The talks are fluid and could still fall apart, these people warned.
There is a lot of behind-the-scenes investment and partnership activity in the autonomous vehicle space these days. In short, these relationships are getting messy and hard to follow.
Let's not forget that Softbank's Vision Fund already has a nearly 20 percent stake in GM's self-driving subsidiary GM Cruise following its $2.2 billion investment in 2018.
Then there's Volkswagen AG, which is in continued talks with Ford to partner on self-driving car technologies. The framework of the agreement is expected to include VW making an investment into Ford-backed autonomous vehicle startup Argo AI.
VW already has other partnerships. VW Group, Intel's  computer vision subsidiary Mobileye  and Champion Motors said in November they plan to deploy Israel's first self-driving ride-hailing service in 2019 through a joint venture called New Mobility in Israel. VW also has a partnership with AV startup Aurora to integrate self-driving systems in custom-designed electric shuttles for VW's new Moia brand.
Other deals:
Flight-hailing startup Blackbird raises $10 million
Drivezy, India's vehicle-sharing startup is raising more than $100 million
BMW i Ventures invested in Bright Machines, a San Francisco-based company that has combined software and robotics to help automotive, computer and electronic brands improve product quality, throughput, and factory optimization.

Toyota Motor, DENSO Corporation, and Toyota Tsusho Corporation made a $15 million investment into connected vehicle services startup Airbiquity. The four parties will collaborate to accelerate the development and commercialization of an automotive grade over-the-air (OTA) system enabling remote vehicle software updates and management.

Freight railroad owner Genesee & Wyoming is considering a sale of all or part of itself, Bloomberg reported
---
Snapshot
I spent the week in Austin to participate in a number of SXSW-related events, including a couple of panels. As MRD notes in the micromobility section below, scooters were everywhere. And I used them a lot.
Here's what many might not have considered as they zipped along the streets, and sidewalks of Austin. The new new new thing often kills off something else, or at least forces it to change.
Which brings me to pedicabs. The snapshot below is a long lineup of empty pedicabs in downtown Austin. I saw these pedicabs-sans-riders everywhere in Austin. I remember SXSW just one year ago and the pedicabs were full; I took them several times that week. But now, scooters and bike share are here, and the pedicabs seem to be the ones suffering the most. I hired a pedicab during my stay and the driver confirmed my observations: they're waiting much longer for customers now.
Sometimes that disruption can hit the new new thing too. Take bike share. The Austin City Council on approved in February 2018 the creation of a "dockless" bike share pilot program. Some companies were already operating these services; this action created a regulatory framework. But then scooters came en masse.
City officials and one dockless mobility executive told me that scooters upended bike share, and prompted companies to take some of their bikes off the streets do to lack of demand.
---
Tiny but mighty micromobility
It seems like everyone is riding scooters now. Case in point, Austin during SXSW. MRD weighs in on what went down.
I wasn't in Austin this week for SXSW. And it's a good thing I wasn't because there were reports of a tornado! Well, a tornado of scooters. According to The Verge, scooters and bikes were out and about, enabling the hundreds of thousands of conference goers to get from one bar to the next — and from one session to the other.
"Some of the astounding sights I've seen in the past few days include multiple vicious-looking wipeouts, a man cranking the accelerator and doing donuts in a crowded parking lot, and scooters littering the gutters of East 6th Street while throngs of people avoid tripping over them," The Verge's Nick Statt wrote. "At one point, I read that a man was found riding one down the shoulder of an Austin highway. Riders here are disregarding all manner of street signage and traffic lights; some people flagrantly speed the wrong way down streets."
In other micromobility news …
Micromobility data platform Populus raised some skrillz — $3.1 million, to be exact. That's in part because, while cities are down for this new era of transportation and operators are down to share their data, cities still have to find out what to do with this data and how to extract learnings from it.
This is where Populus comes in. Populus raised the seed round from Precursor Ventures, Relay Ventures and others to help cities make sense of the influx of transportation data. This brings the startup's total funding to $3.85 million.
And  … just because scooters are hot right now, doesn't mean companies aren't facing headwinds. The Information reported that Bird has laid off between 4 to 5 percent of its workforce.
— Megan Rose Dickey
---
Notable reads
Navigant Research released its annual, and often controversial autonomous vehicle leaderboard report, by principal analyst Sam Abuelsamid. The Navigant Research Leaderboard examines the strategy and execution of 20 leading automated driving system companies and rates them based on 10 criteria, including vision; go-to market strategy; partners; production strategy; technology; sales, marketing, and distribution; product capability; product quality and reliability; product portfolio; and staying power.
The leaders, in Navigant's view are:
Waymo
GM Cruise
Ford autonomous vehicles
Aptiv
Intel-Mobileye
Volkswagen Group
Daimler-Bosch
Baidu
Toyota
. Renault-Nissan-Mitsubishi Alliance
Other quotable notables:
With the rise of autonomous delivery bots — or at least news of all the capital they're raising — it's worth revisiting a white paper that KPMG put out in November called Autonomy Delivers: An oncoming revolution in the movement of goods. The report notes how e-commerce is pushing this delivery phenomenon forward. Two forecasts worth noting:
expecting no acceleration in e-commerce adoption trends, KMPG estimates that by 2040 e-commerce will reduce shopping trips in the U.S. by 30 percent. It could be as high as 50 percent.
as a result, delivery vehicle miles traveled will skyrocket from 23 billion annual miles to more than 78 billion by 2040.
---
Testing and deployments
That chatter was confirmed by a new job listing for an autonomous vehicles "market specialist" based in Austin. Austin is the fifth city to join the automaker's testing program, which already includes Detroit, Miami, Pittsburgh and Washington D.C.
Meanwhile, Los Angeles is getting ready for a widespread deployment of scooters. About seven companies already have permission to operate on a conditional basis, according to Los Angeles Department of Transportation's general manager Seleta Reynolds. Now it's about to get bigger.
The city recently launched a one-year dockless on-demand personal mobility program. As part of that program, the LADOT accepted applications from companies seeking one-year permits. Eleven companies applied for permission to operate about 38,000 dockless devices. The city is prepping for coming deluge by creating designated parking areas and other signage.
That sounds like a lot; and it is. But it could have been a much higher number. If these companies had maxed out the total number allowed under the permit, it could have meant 160,000 scooters in Los Angeles.
Why wouldn't Bird, Lime, Spin and others max out the allowable 10,500 scooters per permit? Here's one thought: cost and supply.
The annual permit application fee is a non-refundable $20,000. Companies also most pay $130 fee per vehicle annually if they're operating in non-disadvantage communities (DAC). LADOT is allowing companies a maximum of 3,000 scooters in non-DAC areas, 5,000 in DACs in San Fernando Valley and up to 2,500 in DACs in outside of San Fernando Valley. Permits for scooters in DACs are $39 per vehicle, a 70 percent reduction in that fee.
That means if a company could max out and hit the 10,500 scooter limit, which includes DACs, it would be looking at more than $700,000 in permitting fees to operate for a year.
Two car things …
Gridwise, a mobile app designed to increases rideshare drivers' hourly earnings by helping them find more rides and track their performance, launched in a number of cities, including Austin, Dallas, Houston, Los Angeles, and Phoenix. Gridwise app is already available in numberous U.S. cities such as Baltimore, Boston, Chicago, New York City, Pittsburgh, Philadelphia, and Washington DC.
And Citymobil, o

ne of the largest Russian taxi aggregators, has teamed up with Gazprom to launch a taxi r

uns on natural gas. About 500 taxi cars that participate with Citymobil have already been converted to work on methane. By the end of the year, their number is expected to reach 10,000.
---
On our radar
There is a lot of transportation-related activity this month.
Nvidia GTC
TechCrunch will be at Nvidia's annual GPU Technology Conference from March 18 to 21 in San Jose.
The 4th annualADAS Sensors 2019 conference and expo held March 20 to 21 in Detroit Michigan. See the full conference agenda at: http://www.adassensors.com/agenda.html
Thanks for reading. There might be content you like or something you hate. Feel free to reach out to me at kirsten.korosec@techcrunch.com to share those thoughts, opinions or tips. 
Nos vemos la próxima vez.
Here's How To Lock Chrome's Incognito Mode Tabs With Your Fingerprint On iPhone
Millions of internet users worldwide use Chrome's Incognito mode to hide and protect their web activity. Google mentions on a support page that Incognito mode doesn't keep a record of the websites you've visited or the site data/cookies associated with the browsing session. Further, with locked Incognito Tabs on Chrome, iPhone users can be double sure about their privacy. Before the feature arrived, iPhone users had to manually close all the Incognito Tabs before handing over their phone to someone else. The locked Incognito Tabs feature locks all the Incognito Tabs in the current session behind a password or biometric entry.
Once you enable the locked Incognito Tabs feature on your iPhone, you wouldn't have to worry about anyone sneaking on your Incognito Tabs. The moment you minimize Google Chrome and open another app, or head to the home screen, Chrome will lock the Incognito Tabs. The next time you try to access the tabs, Chrome will ask you to enter your iPhone's passcode or a registered biometric match. On certain iPhone models like the iPhone 8 or the iPhone SE (2022), Chrome allows unlocking Incognito Tabs via Touch ID. On the other hand, iPhone models like the iPhone 13 and iPhone 14 ask users to access their Incognito Tabs through Face ID, as these models don't have a fingerprint scanner.
Nevertheless, whether you have an old or a new iPhone, the locked Incognito Tabs feature should come in handy. Let's discuss the steps involved in enabling the feature on an iPhone (or an iPad).
Here's how to lock Incognito Tabs on iPhone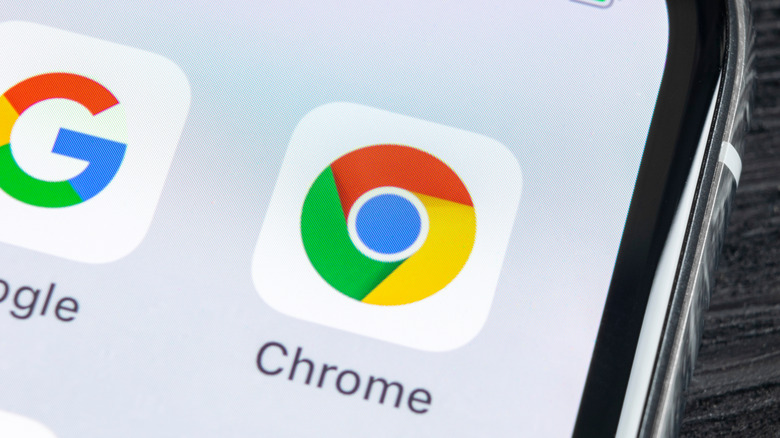 BigTunaOnline/Shutterstock
The locked Incognito Tabs feature is located in Chrome's Settings menu, and it is pretty easy to enable it. Follow the steps given below on your iPhone.
Open Google Chrome.
Press the three-dot icon at the bottom right corner of the screen. You should see a menu with a quick action list on top.
Swipe left on the list and hit the Settings option.
Now scroll down to locate and select the Privacy and security option.
In the Privacy and security menu, tap on the toggle beside Lock incognito tabs when you close Chrome. Tap Enable in the confirmation dialogue box, and you're ready.
Press Done to get out of the Settings menu and back to the browsing screen.
Upon following all the steps successfully, you should be able to activate the locked Incognito Tabs. Now, let's test the feature.
On Google Chrome's browsing window, hit the three-dot icon at the bottom right corner and tap New incognito tab.
In the incognito tab, conduct a Google search.
Once you see the search results, swipe up from the bottom edge of the display to open the Home Screen.
Now, reopen Google Chrome. You should see a button on your screen that reads Unlock with Touch ID or Unlock with Face ID.
Hit the unlock button and then place your registered finger on the Touch ID sensor, or place your iPhone in front of your face to confirm via Face ID.
Upon verifying it's you, Chrome grants access. 
Things to keep in mind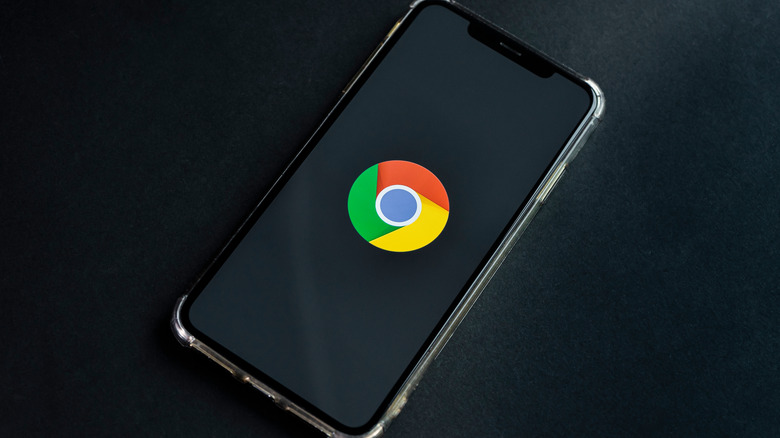 Gargantiopa/Shutterstock
Now that you know how to lock your Incognito Tabs on Chrome, here are a few things to keep in mind. You might think you'll lose your Incognito Tabs if you remove Google Chrome from the recent apps list, but that is not true. Even if you do that and reopen the app, you'll find your Incognito Tabs intact behind the biometric lock.
The second thing you should know is that Chrome only locks the Incognito Tabs upon minimizing the app, which means that your regular tabs are still vulnerable. In other words, even with the locked Incognito Tabs feature enabled, anyone can access the regular tabs on your iPhone. If the feature is unavailable on your iPhone, update the Google Chrome web browser from the App Store. Since it has been around for over a year, there's a good chance you won't need to update Chrome to get the feature.
Overall, the locked Incognito Tabs feature acts as an extra layer of security over anonymous browsing, as it's not just the digital threats you need to stay away from – you need to handle the bad actors in real life.
2024 BMW X5 And X6 Show Why Electrification Really Matters
Automakers are pushing, now more than ever, to electrify their lineups. Whether through plug-in hybrids that can go a few miles while running only on batteries, or by making fully electric versions of cars, several automakers are continuing to iterate on electric car design. 
Chevrolet made waves with the long-rumored Corvette E-Ray hybrid that's helped by both electric motors and a 6.2-liter V8. BMW electrified the 7-Series in the form of the 2023 BMW I7 xDrive60. That car benefitted from 544 horsepower and upwards of 310 miles of range. Cars are changing rapidly as electrification becomes more practical, and many automakers are planning on either hybridizing or electrifying their entire lineups within a few short years.
BMW just announced a host of changes to its X5 and X6 SUVs for the 2024 model year. Those changes bring a host of improvements to both models with more powerful engines, a more high-tech and contemporary interior, and a much-improved plug-in hybrid version of the X5.
Useful electrification
BMW
According to a press release from BMW, there will be two new engine choices for the X5 and X6: a twin-turbo 3-liter inline 6 that produces 375 horsepower on the X5 xDrive40i and X6 xDrive40i models, and a twin-turbo 4.4-liter V8 that throws down 523 horsepower on the X5 M60i xDrive and the X6 M60i xDrive. Both engines will benefit from a 48-volt mild hybrid system that boosts torque, and works with the eight-speed transmission to allow for a smoother driving experience. 
The real star of the new model range is the plug-in hybrid X5 xDrive50e. The revised drivetrain consists of a twin-turbo inline-6 and an electric motor that puts out 483 horsepower and 516 pound-feet of torque when working together. BMW says the plug-in X5 can accelerate from 0-60 miles per hour in 4.6 seconds, showing that a hybrid system is useful for more things than just efficiency. BMW also says that the plug-in can travel up to 40 miles on just battery power without using a drop of gas.
Modernized, capable interior
BMW
The inside of both the X5 and X6 will also feature a new 12.3-inch curved infotainment screen, and a 14.9-inch curved display for controls. Updates bring the infotainment in the X5 up to the latest BMW iDrive software, alongside a new heads-up display, Augmented View, and more modern features.
The displays will be paired with the updated BMW Operating System 8, which includes improvements to the optional driver support systems with the new Highway Assistant, and reverse assistance with optional parking assistance technology as well.
The base model X5 sDrive50i starts at $65,200, the X5 xDrive40i begins at $67,500, the plug in X5 xDrive50e has an MSRP of $72,500. The X6 xDrive40i starts at $73,900. Lastly, the M60i xDrive versions of the X5 and X6 start at $89,300 and $93,600 respectively. Prices do not reflect the $995 destination charge.
BMW says that production will begin in April of 2023 at BMW's Spartanburg, South Carolina plant.
How To Retrieve Deleted Files From iCloud
The file recovery process varies slightly between devices, but getting a deleted file back usually takes just a few steps. After you have restored a file, folder, or album, you can find it in the same destination where it was before deletion. 
If you deleted the files from iCloud web or iCloud Drive:
Click the sidebar.
Click the Recently Deleted tab.
Select the files you want to recover.
Click Recover.
If you want to restore all files in the Recently Deleted section, instead of selecting all files one by one, click Recover All (via Apple).
If you deleted the file on a Mac:
Click the Quick Access menu button on the iCloud app on your Mac.
Click Data Recovery.
Click Restore files.
You can also find the file in Trash and drag it out. Or, right-click the removed file in Trash and select Put Back. Your file will be sent back to where it was originally (via Apple).
On your iPhone or iPad:
Open Files
Select Recently Deleted.
Touch and hold the file you want to retrieve.
Select Recover.
If you want to restore contacts, calendars, bookmarks, or reminders, 
Go to iCloud settings on the iCloud app or iCloud website.
Find the Restore settings under Advanced.
Pick your preferred data type.
Select the backup to restore.
There a is caveat, however. If you empty Trash or Recently Deleted, your file is permanently erased (via Apple). We recommend maintaining a physical backup on a USB stick or external hard drive to keep important data safe.