Walmart announces next-day delivery on 200K+ items in select markets – TechCrunch
This month, Amazon announced it's investing $800 million in its warehouses and delivery infrastructure in order to double the speed of Prime shipping by reducing it to only one day. Now Walmart is following suit with a one-day shipping announcement of its own. The rival retailer says it will begin to offer free, NextDay delivery on select Walmart .com orders over $35 — without a membership fee.
This offer will initially be available to customers only in Phoenix and Las Vegas beginning on Tuesday, May 14, 2019, and will then expand to customers in Southern California over the next few days. The rollout will then continue "gradually" over the months ahead, with a goal of reaching 75% of the U.S. population — including 40 of the top 50 U.S. metros — by year-end.
Today, Amazon Prime covers more than 100 million items, which are available for two-day shipping to Prime's more than 100 million subscribers. To make an inventory of that size available for one-day shipping is a massive investment on Amazon's part.
Walmart, on the other hand, is starting smaller. Its NexDay delivery will be available as a standalone, curated shopping experience where customers can browse up to 220,000 of the most frequently purchased items.
This includes things like diapers, electronics, toys and household needs, and soon more. Everything in the cart has to be NextDay-eligible and total more than $35 to qualify. The cut-off times for the order will vary by location, Walmart says. Orders will be delivered primarily by national carriers, and in some cases, regional carriers.
This more limited focus in terms of inventory (for now at least) makes NextDay more of a competitor to Target's Restock than to Amazon one-day Prime ambitions, as — like Restock — it requires a $35 minimum order. Restock, though, has customers "filling a box" with items and is largely focused on day-to-day shopping. Meanwhile, Walmart's NextDay selection is wider than Restock's some 35,000 items. (However, ahead of Walmart's announcement, Target pushed out news that its same-day "Drive Up" curbside service had now expanded to over 1,250 U.S. stores.)
Walmart's focus on matching Amazon's efforts — but with a different set of conditions and "without a membership fee" — is now par for the course.
For example, Walmart in early 2017 first announced it would begin to offer free, two-day shopping on more than 2 million items with no need for a membership — as long as orders totaled $35.00 or more. The retailer had been trialing such a sped-up shipping system for years — starting with a test of its answer to Prime back in 2015. Dubbed ShippingPass at the time, the program initially began with 1 million items and three-day delivery, then was lowered to two days while the number of eligible items doubled. 
This past October, Walmart expanded two-day shipping to its Marketplace sellers, as well.
Now, it's focused on one-day. Walmart says this is not in response to Amazon's news, but rather had plans already in progress.
"We can offer fast, convenient shipping options because we've built a network of fulfillment assets that are strategically located across the U.S. We've also done extensive work to ensure we have the right products in the right fulfillment centers based on where customers are located and what they're ordering," said president and CEO of Walmart E-Commerce, Marc Lore.
Lore had sold his e-commerce startup Jet.com to Walmart for $3 billion in 2016. While it lives on as a more urban-focused delivery service, its influence on Walmart's broader e-commerce efforts — particularly around delivery logistics — is seen in these expanded efforts to improve delivery times that also reduce costs while keeping prices low for consumers. Jet, for example, had offered credits to consumers who bought their items from the same nearby warehouse. That's not entirely different from what Walmart NextDay is doing.
As Lore explains, NextDay is affordable for Walmart.
"Our new NextDay delivery isn't just great for customers, it also makes good business sense. Contrary to what you might think, it will cost us less – not more – to deliver orders the next day," he says. "That's because eligible items come from a single fulfillment center located closest to the customer. This means the order ships in one box, or as few as possible, and it travels a shorter distance via inexpensive ground shipping. That's in contrast to online orders that come in multiple boxes from multiple locations, which can be quite costly."
Forrester analyst Sucharita Kodali suggests a bit more caution. She agrees that having another place to get overnight shipping is a win for consumers, but there could still be challenges.
"I think that makes sense theoretically, but whether or not they can make the economics work depends on the quality of the assortment and how many people actually use it. Also, I don't know how easily it scales," she says.
Here's How To Lock Chrome's Incognito Mode Tabs With Your Fingerprint On iPhone
Millions of internet users worldwide use Chrome's Incognito mode to hide and protect their web activity. Google mentions on a support page that Incognito mode doesn't keep a record of the websites you've visited or the site data/cookies associated with the browsing session. Further, with locked Incognito Tabs on Chrome, iPhone users can be double sure about their privacy. Before the feature arrived, iPhone users had to manually close all the Incognito Tabs before handing over their phone to someone else. The locked Incognito Tabs feature locks all the Incognito Tabs in the current session behind a password or biometric entry.
Once you enable the locked Incognito Tabs feature on your iPhone, you wouldn't have to worry about anyone sneaking on your Incognito Tabs. The moment you minimize Google Chrome and open another app, or head to the home screen, Chrome will lock the Incognito Tabs. The next time you try to access the tabs, Chrome will ask you to enter your iPhone's passcode or a registered biometric match. On certain iPhone models like the iPhone 8 or the iPhone SE (2022), Chrome allows unlocking Incognito Tabs via Touch ID. On the other hand, iPhone models like the iPhone 13 and iPhone 14 ask users to access their Incognito Tabs through Face ID, as these models don't have a fingerprint scanner.
Nevertheless, whether you have an old or a new iPhone, the locked Incognito Tabs feature should come in handy. Let's discuss the steps involved in enabling the feature on an iPhone (or an iPad).
Here's how to lock Incognito Tabs on iPhone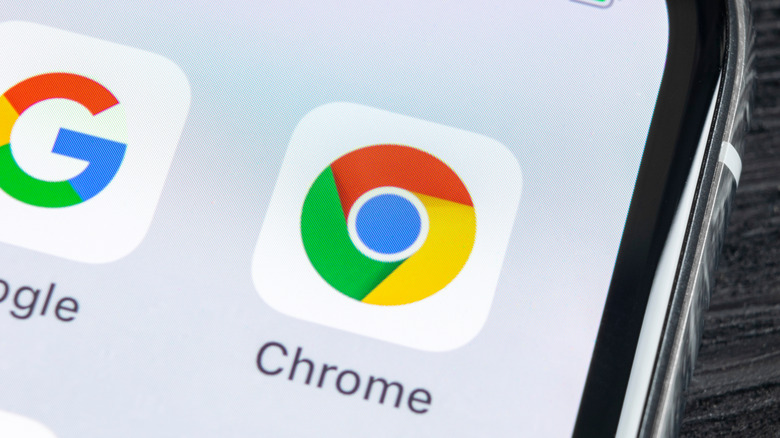 BigTunaOnline/Shutterstock
The locked Incognito Tabs feature is located in Chrome's Settings menu, and it is pretty easy to enable it. Follow the steps given below on your iPhone.
Open Google Chrome.
Press the three-dot icon at the bottom right corner of the screen. You should see a menu with a quick action list on top.
Swipe left on the list and hit the Settings option.
Now scroll down to locate and select the Privacy and security option.
In the Privacy and security menu, tap on the toggle beside Lock incognito tabs when you close Chrome. Tap Enable in the confirmation dialogue box, and you're ready.
Press Done to get out of the Settings menu and back to the browsing screen.
Upon following all the steps successfully, you should be able to activate the locked Incognito Tabs. Now, let's test the feature.
On Google Chrome's browsing window, hit the three-dot icon at the bottom right corner and tap New incognito tab.
In the incognito tab, conduct a Google search.
Once you see the search results, swipe up from the bottom edge of the display to open the Home Screen.
Now, reopen Google Chrome. You should see a button on your screen that reads Unlock with Touch ID or Unlock with Face ID.
Hit the unlock button and then place your registered finger on the Touch ID sensor, or place your iPhone in front of your face to confirm via Face ID.
Upon verifying it's you, Chrome grants access. 
Things to keep in mind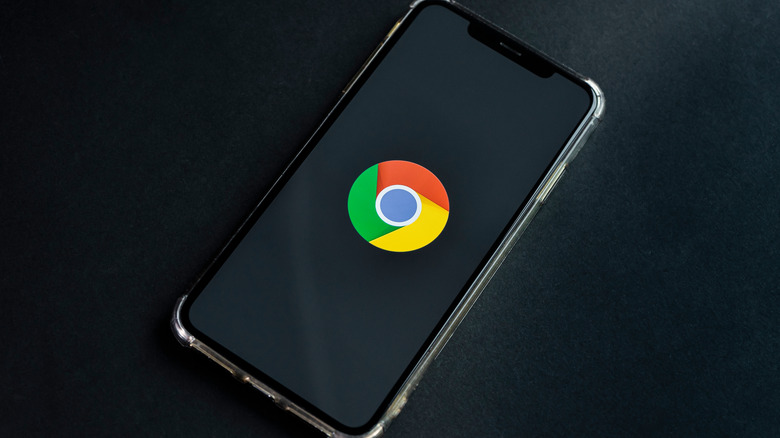 Gargantiopa/Shutterstock
Now that you know how to lock your Incognito Tabs on Chrome, here are a few things to keep in mind. You might think you'll lose your Incognito Tabs if you remove Google Chrome from the recent apps list, but that is not true. Even if you do that and reopen the app, you'll find your Incognito Tabs intact behind the biometric lock.
The second thing you should know is that Chrome only locks the Incognito Tabs upon minimizing the app, which means that your regular tabs are still vulnerable. In other words, even with the locked Incognito Tabs feature enabled, anyone can access the regular tabs on your iPhone. If the feature is unavailable on your iPhone, update the Google Chrome web browser from the App Store. Since it has been around for over a year, there's a good chance you won't need to update Chrome to get the feature.
Overall, the locked Incognito Tabs feature acts as an extra layer of security over anonymous browsing, as it's not just the digital threats you need to stay away from – you need to handle the bad actors in real life.
2024 BMW X5 And X6 Show Why Electrification Really Matters
Automakers are pushing, now more than ever, to electrify their lineups. Whether through plug-in hybrids that can go a few miles while running only on batteries, or by making fully electric versions of cars, several automakers are continuing to iterate on electric car design. 
Chevrolet made waves with the long-rumored Corvette E-Ray hybrid that's helped by both electric motors and a 6.2-liter V8. BMW electrified the 7-Series in the form of the 2023 BMW I7 xDrive60. That car benefitted from 544 horsepower and upwards of 310 miles of range. Cars are changing rapidly as electrification becomes more practical, and many automakers are planning on either hybridizing or electrifying their entire lineups within a few short years.
BMW just announced a host of changes to its X5 and X6 SUVs for the 2024 model year. Those changes bring a host of improvements to both models with more powerful engines, a more high-tech and contemporary interior, and a much-improved plug-in hybrid version of the X5.
Useful electrification
BMW
According to a press release from BMW, there will be two new engine choices for the X5 and X6: a twin-turbo 3-liter inline 6 that produces 375 horsepower on the X5 xDrive40i and X6 xDrive40i models, and a twin-turbo 4.4-liter V8 that throws down 523 horsepower on the X5 M60i xDrive and the X6 M60i xDrive. Both engines will benefit from a 48-volt mild hybrid system that boosts torque, and works with the eight-speed transmission to allow for a smoother driving experience. 
The real star of the new model range is the plug-in hybrid X5 xDrive50e. The revised drivetrain consists of a twin-turbo inline-6 and an electric motor that puts out 483 horsepower and 516 pound-feet of torque when working together. BMW says the plug-in X5 can accelerate from 0-60 miles per hour in 4.6 seconds, showing that a hybrid system is useful for more things than just efficiency. BMW also says that the plug-in can travel up to 40 miles on just battery power without using a drop of gas.
Modernized, capable interior
BMW
The inside of both the X5 and X6 will also feature a new 12.3-inch curved infotainment screen, and a 14.9-inch curved display for controls. Updates bring the infotainment in the X5 up to the latest BMW iDrive software, alongside a new heads-up display, Augmented View, and more modern features.
The displays will be paired with the updated BMW Operating System 8, which includes improvements to the optional driver support systems with the new Highway Assistant, and reverse assistance with optional parking assistance technology as well.
The base model X5 sDrive50i starts at $65,200, the X5 xDrive40i begins at $67,500, the plug in X5 xDrive50e has an MSRP of $72,500. The X6 xDrive40i starts at $73,900. Lastly, the M60i xDrive versions of the X5 and X6 start at $89,300 and $93,600 respectively. Prices do not reflect the $995 destination charge.
BMW says that production will begin in April of 2023 at BMW's Spartanburg, South Carolina plant.
How To Retrieve Deleted Files From iCloud
The file recovery process varies slightly between devices, but getting a deleted file back usually takes just a few steps. After you have restored a file, folder, or album, you can find it in the same destination where it was before deletion. 
If you deleted the files from iCloud web or iCloud Drive:
Click the sidebar.
Click the Recently Deleted tab.
Select the files you want to recover.
Click Recover.
If you want to restore all files in the Recently Deleted section, instead of selecting all files one by one, click Recover All (via Apple).
If you deleted the file on a Mac:
Click the Quick Access menu button on the iCloud app on your Mac.
Click Data Recovery.
Click Restore files.
You can also find the file in Trash and drag it out. Or, right-click the removed file in Trash and select Put Back. Your file will be sent back to where it was originally (via Apple).
On your iPhone or iPad:
Open Files
Select Recently Deleted.
Touch and hold the file you want to retrieve.
Select Recover.
If you want to restore contacts, calendars, bookmarks, or reminders, 
Go to iCloud settings on the iCloud app or iCloud website.
Find the Restore settings under Advanced.
Pick your preferred data type.
Select the backup to restore.
There a is caveat, however. If you empty Trash or Recently Deleted, your file is permanently erased (via Apple). We recommend maintaining a physical backup on a USB stick or external hard drive to keep important data safe.